A bride running away in the middle of her
wedding
day could be interpreted as a really bad sign.
But what got Carla Reilly Moore sprinting in August 2015 was far from cold feet.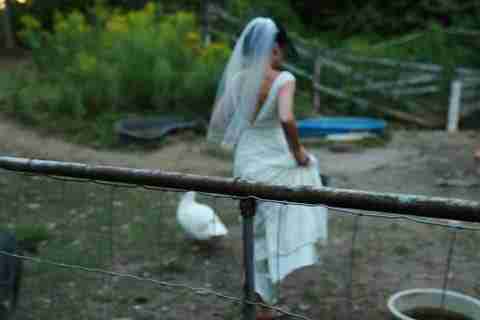 By the time her wedding day had arrived, Moore was more than ready to take her vows to her future husband. Indeed, Moore had already been through quite a lot that year, 2015 — good and bad.
Moore had dreamed of starting a sanctuary for farm animals and she finally opened the doors of
Happy Tails Farm Sanctuary
in Kingston, Ontario, the year before.
"By 2015 the word had got out and our farm sanctuary really started to fill up with very deserving residents!" Moore told The Dodo.
As Moore and her fiancé were realizing the dream of having a sanctuary, getting accustomed to caring for so many animals, and were in the middle of planning their wedding, which was to take place at the sanctuary, fate took a sudden turn.
"That same year, while driving to work, I was in a devastating car accident," she said. "[This] caused lifelong damage to my back."
Moore had to go through long and intensive rehabilitation. "I spent hours with the animals as it's eased my pain and helped me along my path to recovery," she said.
When the wedding day arrived, and Moore was much stronger, she knew that the animals would be a big part of the celebration.
"We couldn't think of a better place to hold our nuptials than here at the sanctuary," she said, "the place that gave me peace and healing, and the place that we helped heal others. We wanted to be surrounded by everything we loved: Nature, family, and of course the animals."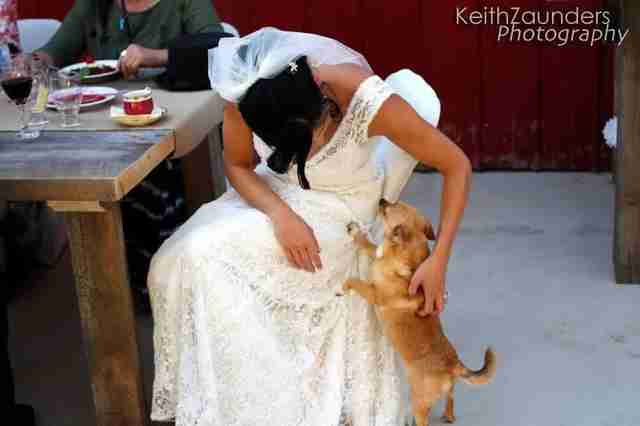 Two pigs, Franklin and Sylvester, helped to survey the property as the ceremony was being set up. And, after vows were exchanged, Daphne the rescued Chihuahua joined Moore and her new husband for their first dance.
In exchange for all their help, Moore knew she'd have to hold up her end of the deal.
"While most people after saying their 'I do's' are whisked away for pictures and dances and dinners and partying, we had to take a break to take care of the most vulnerable guests at our wedding — our
animal residents
," Moore remembered. "I didn't think twice about going down to check on everybody, and even feeding them in my wedding dress."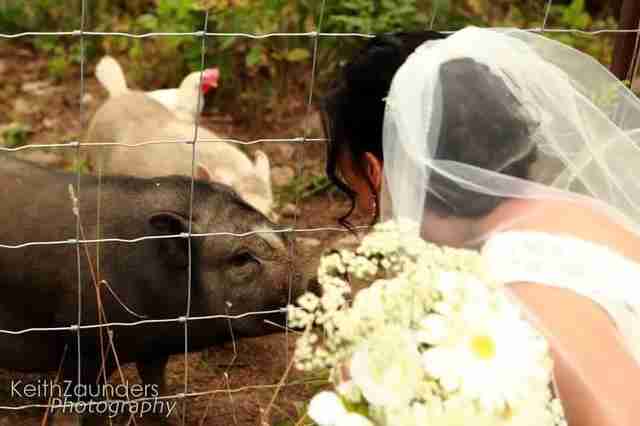 Moore knew that her dream would be a 24/7 job, but she sees the animals as a part of the family.
"When you are a caregiver to so many lives, it's not like you can just pick up and leave," she said. "They rely on you for everything."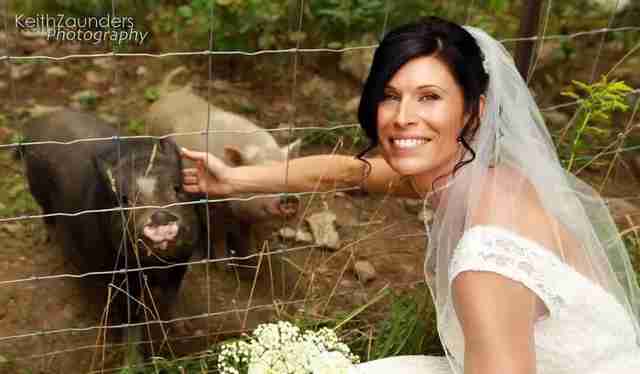 Vows of love clearly come in many forms — and Moore is happy she could include so many individuals in her life.
"We had our honeymoon here!" she said. And since then, the couple likes nothing better than caring for the animals and relaxing in the sun with them.
"We couldn't think of a better place to share our love for each other," she said. "It seems that it was always meant to be."