Nobody else in the world seems to love cute animals as much as the people of Japan. In fact, cuteness—or kawaii—is actually a central cornerstone of the Japanese culture, and that is no more apparent than with one particular animal pair.
Fuku is an owlet who calls a coffee shop in Osaka home. Recently, he met a new friend and the bond they formed was one in a million. It's no wonder this adorable relationship is drawing attention from people around the world. Just wait until you see them!
Hukulou Coffee Shop in Osaka, Japan, has an unusual—but beloved—patron: a teeny owlet named Fuku. Unfortunately, hanging around a coffee shop can get pretty lonely. So when Marimo the kitten wandered in, they immediately formed a bond like no other.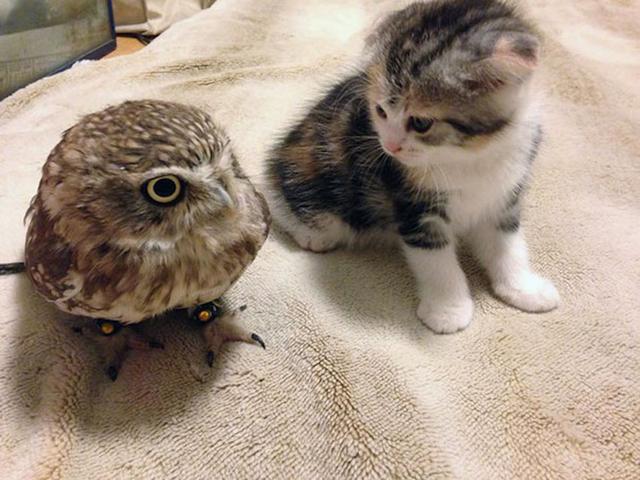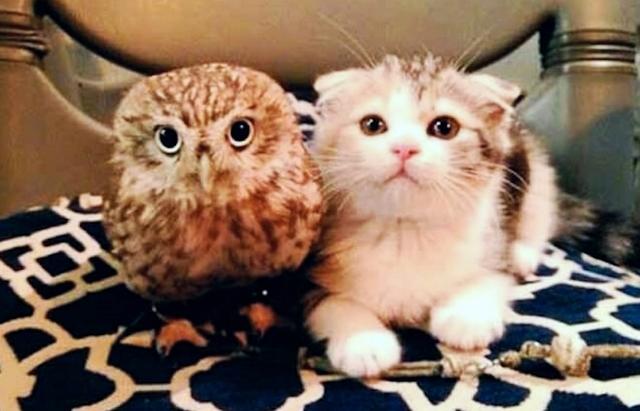 Some cats need time to adjust to new friends, but that wasn't the case with Marimo. In just a matter of minutes, he was already glued to Fuku's side—and the little owl didn't seem to mind at all.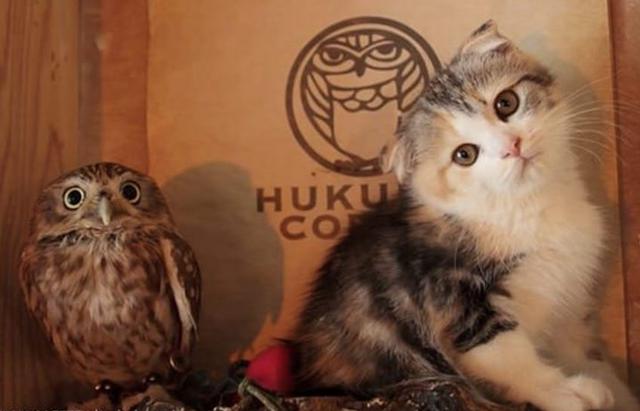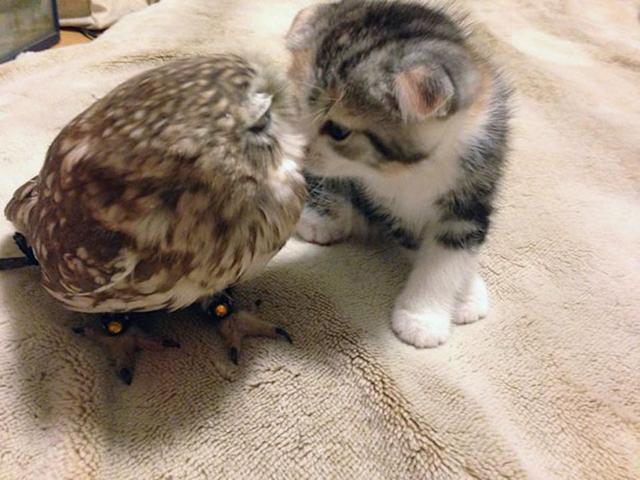 The staff at the cafe couldn't believe their eyes when Marimo and Fuku started snuggling with each other! It was like they were long-lost siblings who had finally been reunited.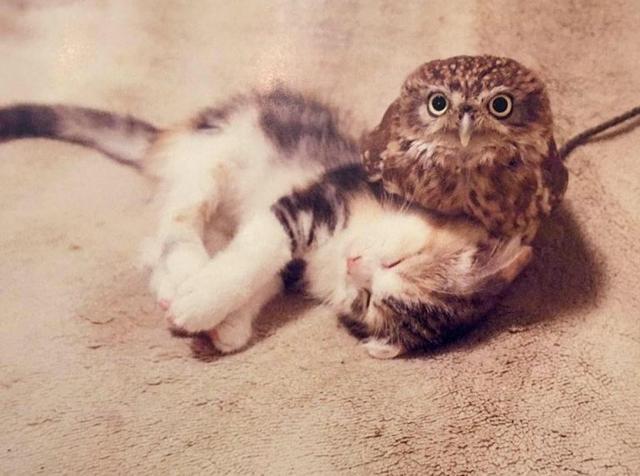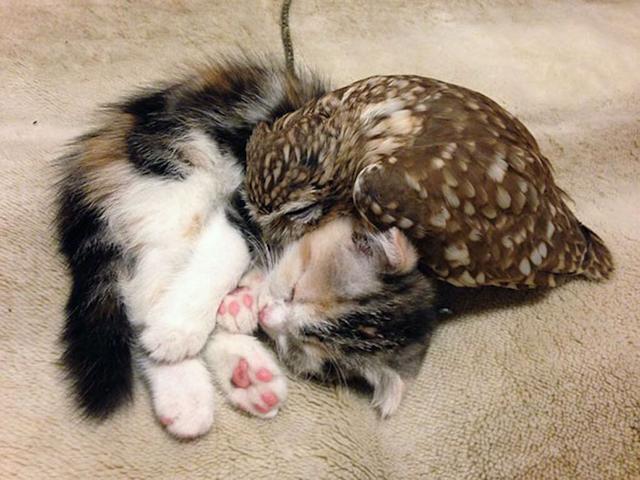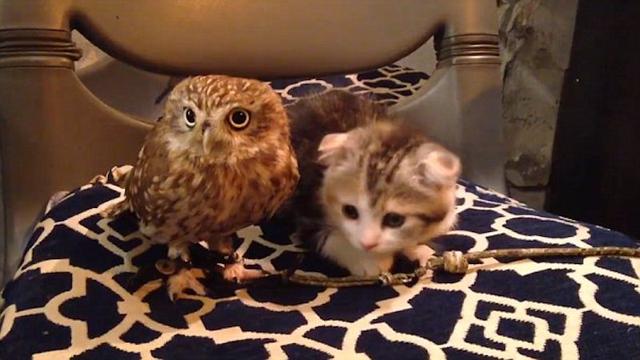 Before Marimo showed up, Fuku had some other owl buddies. But he never had a best friend in his own species, let alone one of the feline variety. Meeting Marimo turned him into an entirely new owl!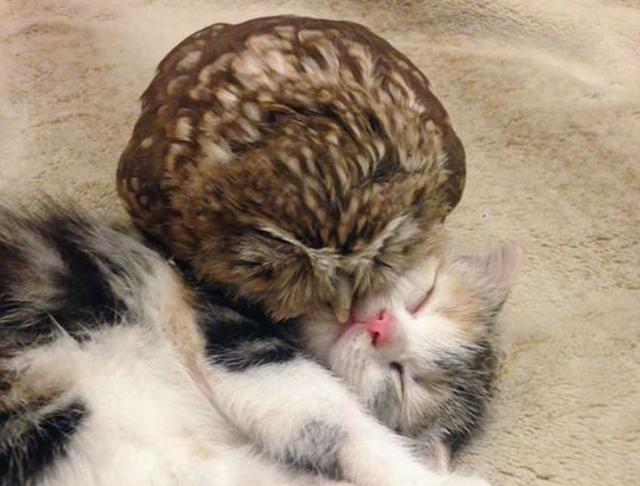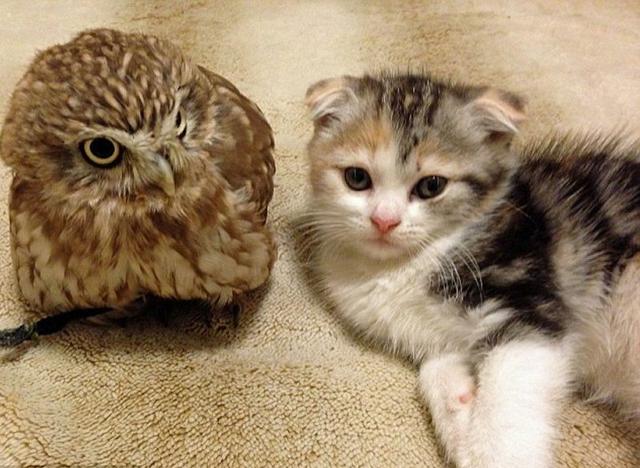 In fact, these two became so close to each other—literally—that when they curled up for a cuddle, it was actually be pretty difficult to tell where one of them ended and the other began! They were just a cute little ball of fur and feathers.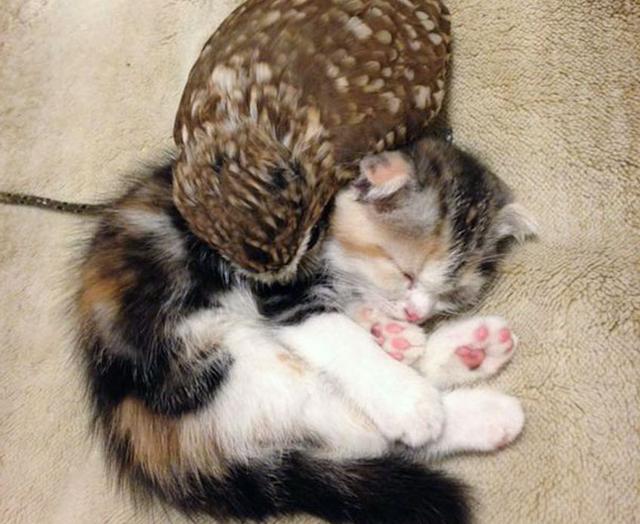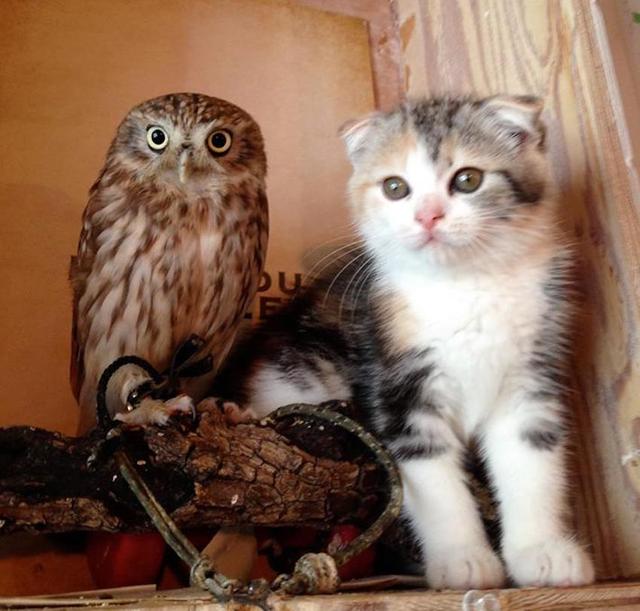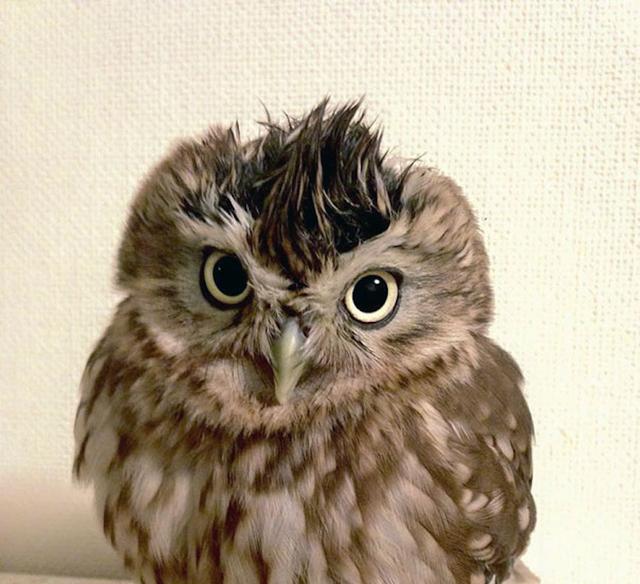 Fuku obviously couldn't drink coffee to wake him up, but Marimo knew that once his owl buddy was up and at 'em, they'd go on their adventures once more. The kitty seemed perfectly content to wait for his friend to perk up!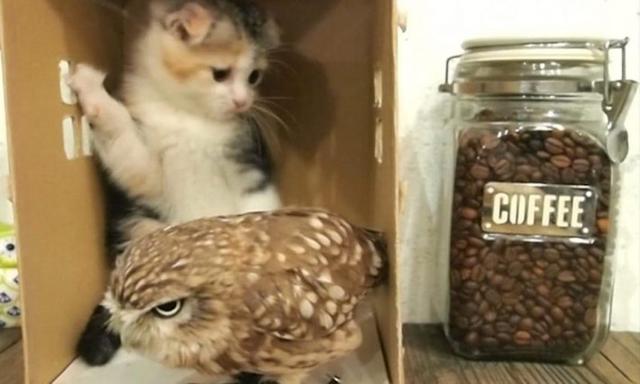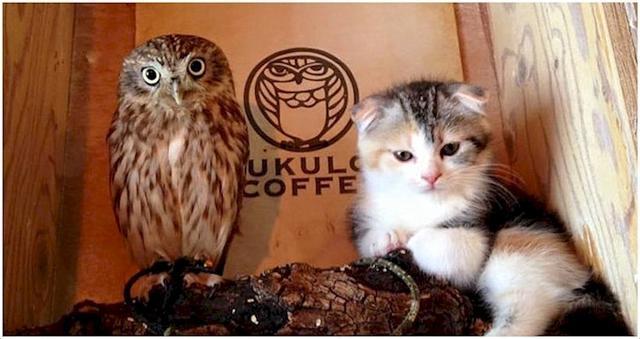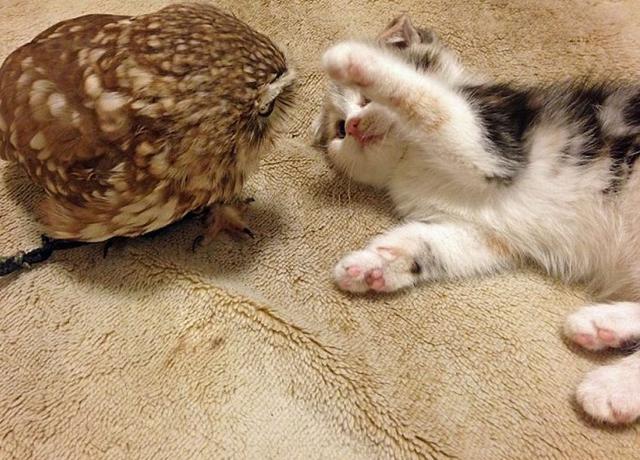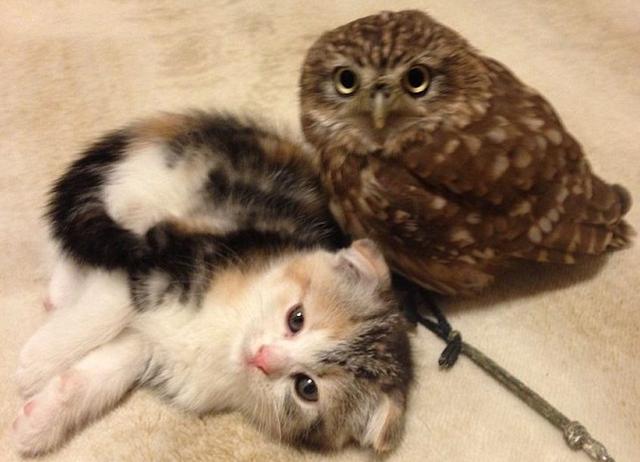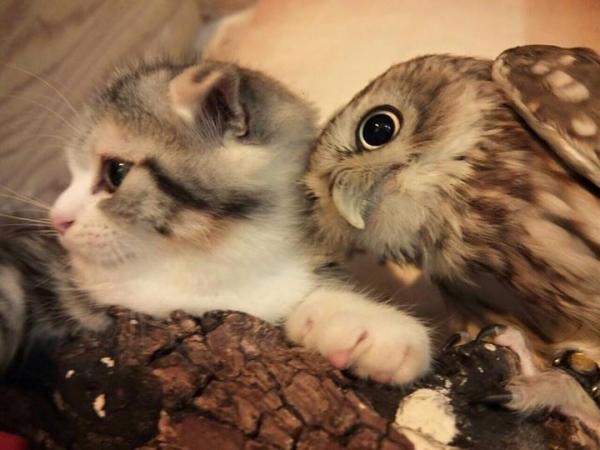 Even as the two grew older, they continued to share their extra special bond. If you saw Marimo lounging on a sofa, it was a safe bet that Fuku was nearby keeping watch over his tiny bestie.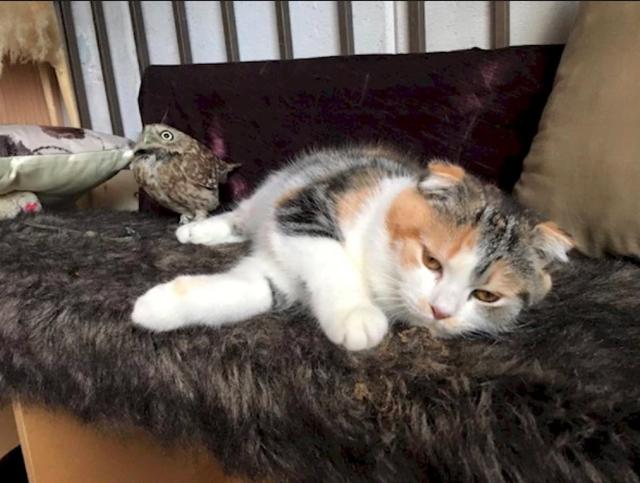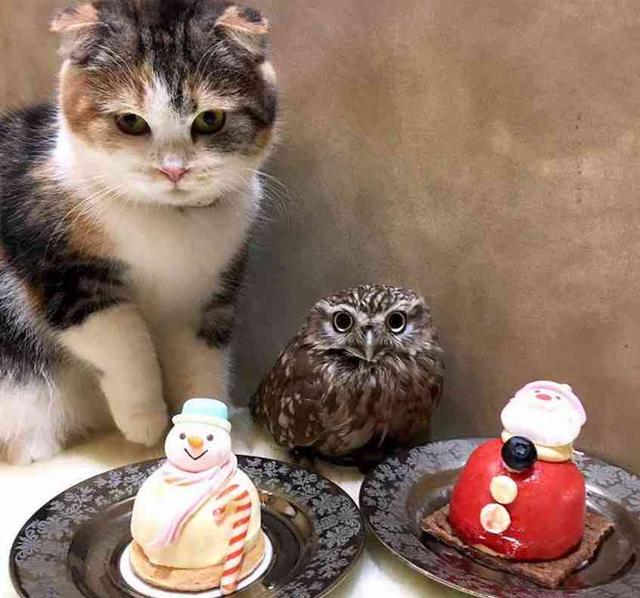 Wouldn't it be great if these two were the stars of an animated kids' movie? Come on, Disney, you know you can make this happen!