Remember the Tuscaloosa–Birmingham tornado? When it struck upon the state of Alabama back in April of 2011, a huge number of families were left homeless and defeated. The strong tornado ended up taking several lives as well as injured so many. Some people managed to stay safe and survive the havoc. The tornado did not differentiate between animals or humans, it took the lives of animals as well and left them devastated equally. Some animals were also lucky enough to live through this horrid incident that caused so much destruction. This dog was, unfortunately, one of the ones to be taken away by the tornado only to achieve something truly unbelievable.

The Tuscaloosa–Birmingham tornado set foot on the state of Alabama in the month of April back in the year 2011. The tornado left a mess in the city of Tuscaloosa and Birmingham, where there were signs of destruction and demolition everywhere. The rural areas that lay between the two cities underwent an extensive amount of damage as well.

The tornado happened to be the costliest tornado ever to take place in the county of the United States. There were so many people who lost so much due to this EF4 tornado, but it also left room for uncountable inspiring stories and tales of bravery and courage too. You would be surprised to learn about the adventures of this little dog when the tornado struck his place of dwelling…

The Storm Prediction Center was already aware of the fact that a storm was about to hit the cities on April 23rd. The SPC even issued a warning that warned people to take precautions and to prepare themselves for a tornado that would be at least an EF2. It was clear from the start that this was not going to be an ordinary tornado that the people could just get through.

The people living in the area were quick to take action and take an effort to save themselves, but no one predicted that the tornado would turn out to be so powerful and intense. Therefore, when the storm actually hit, many people found themselves in danger just like this pup who was separated from his loving family after the merciless storm struck upon them.

By the time the Tuscaloosa–Birmingham tornado waltzed through the state of Alabama, it grew to be about a mile and a half wide, easy ripping apart neighborhoods, demolishing houses, and taking trees along its course. It was reported that 1500 people were severely injured and 65 people lost their lives because of it.
Meteorologists took a study on this powerful storm and discovered that it was actually a part of a series of storms that spread across around 8 cities known as the "2011 Super Outbreak". This became the most intense tornado outbreak in the history of America. It can be said that natural calamities such as this can always cause destruction but can never break our human spirit, but what's the case for animals?

On the day of April 27, 2011, the intense tornado swept through North Smithfield in Birmingham, Alabama. The storm ended up leaving many families in grief as it took away lives and homes. A family residing in this region was trying their best to keep safe, staying in the garage along with their beloved family dog named Mason.
As they saw that the storm was growing bigger and bigger, they made a dash to get inside their house. Since it was a case of an emergency, with every man to fend for himself, they clearly could not think things through. Mason, the family's two-year-old terrier mix was there with them, but no one had thought of checking on him during all this chaos.

As the storm left the area, the family hurried to get into their garage in the hopes of finding their dear dog, curled up in the corner somewhere inside. Since the family did not spot him anywhere inside the house, they were hoping to see him in the garage at least.
The lovely pup named Mason was nowhere inside and the poor family had to come to terms with this realization. The family was not okay with the fact that they would have to get out of the house minus the dog during the time their house would be under repair. So where could Mason be?

His owners were terrified that the worst might have happened to little Mason. They were hesitant to accept the fact that he had lost his life due to the storm. They had an inkling that Mason was still out there somewhere, that he survived the storm. The family scoured the whole entire neighborhood to hopefully find or get clues of Mason's whereabouts.
They took several days to search for him but in the end, since there was not a single clue found, they had to accept that he was no longer there. The family spoke about their dog but did not want media attention or any kind of coverage.

As soon as the Tuscaloosa–Birmingham tornado had gone away, animal shelters and rescue groups worked together to hopefully bring about some positivity on the destruction that the storm had left. There were reportedly about 1,800 animals that had been displaced. They did their best to get the pets and families to reunite.
These organizations also help by keeping dogs that have lost their owners to the storm, up for adoption. They also had to deal with the dogs that have been abandoned by owners who lived through the storm, unable to take responsibility due to the overwhelming feeling of loss and trauma. So then, what ended up happening for Mason?

It was easy for owners to assume that their pets were gone after realizing that they were not there next to them when the storm passed on. Mason's family tried very had to find him but since their luck ran out, they had to somehow find a way to accept that he was gone.
About one-third of the animals that had gone missing were successfully reunited with their families, due to the efforts of the animals' shelter and organizations. The organizations had a 10-day policy where if none of the pet owners came to claim them, they would be put up for adoption or sent to another animal shelter. Could Mason have turned up in another family's home by now?

The animal shelters decided that they had to extend the dates as some animals had been injured by the storm, needing a lot of extra medical attention too. It must be a great feeling to have found something you thought had been lost forever, sort of like finding a lost earring, but ten times better.
The volunteer sometimes needed to come up with a difficult choice when dealing with the heavily injured pets. "We found a lot of animals with broken feet and broken tails and we lost a few due to internal injuries," Jennifer Bidwell working in Walker County revealed. Many kittens and puppies were also injured and had to be manually fed by their mothers due to their conditions. Was Mason there too?

The pets who had been kept in these temporary shelters along with the ones in Tuscaloosa ended up being placed in the Greater Birmingham Humane Society. Candie Horsley, who is the manager at Cullman City Animal Shelter in Alabama revealed that a whopping 400 animals came in.
"We have 24 usable kennels in our shelter and 20 foster homes for 107 animals," Horsley explained, "We are packed." Tuscaloosa's Metro Animal Control ended up with about 770 animals during that time period too, but still, Mason was nowhere in sight.

After the tornado was finally over, the humane societies and animal control groups decided to make use of social media. They went on using Facebook and created several pages namely "Animals Lost & Found from the Tornadoes in Alabama on 4/27/11." They were aware of just how powerful social media can be so they knew they needed to use it.

The social media use reached out to borders that surpassed the Alabama state. A person from Connecticut was able to help two dogs that had been discovered in Homewood, Alabama to meet again with the owner and some other person from New Zealand stumbled upon photographs of her lost dogs and could match them with images of the photos of found pups on the Facebook page. All in all, about 100 animals could be reunited with their families using this social media platform. So what was in store for Mason and his family?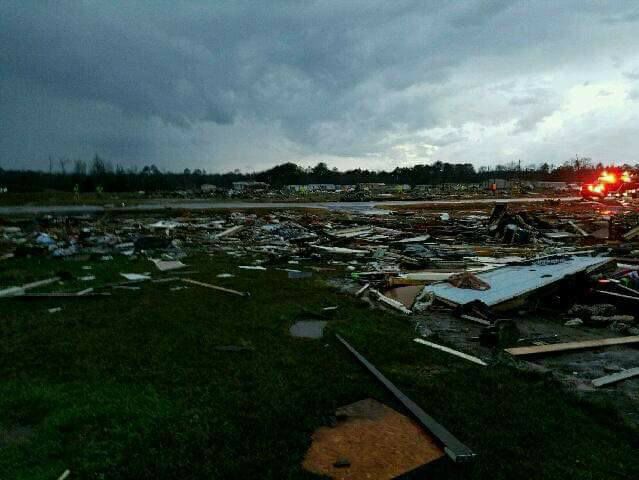 It had been about a month that passed after the tornado hit and still Mason the terrier mix was nowhere to be seen. Mason's family was living in distraught and fear that they would have to go on without him henceforth. They were contemplating on just ending the search for him. Neither the social media pages nor the animal shelter could find the missing pup…

There are so many folks who find no difficulty in moving on from losing their pets but not Mason's family. Many people see their pets as just another animals but there are so many people who consider their dogs or cats as an actual member of the family. It was very fortunate for dear Mason's family to not lose hope and keep the search for him, active.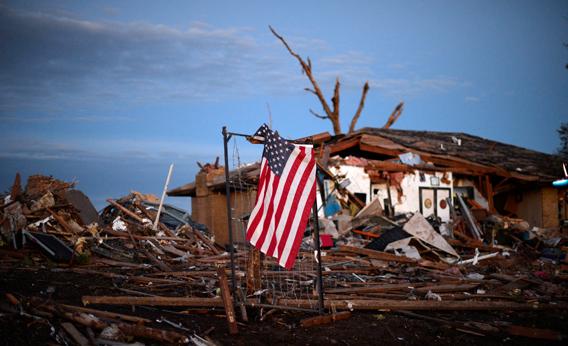 Three weeks had passed since the Tuscaloosa–Birmingham tornado had left immense destruction on NorthSmithfield in Birmingham. During this time, Mason's family made a decision that they would go and check the remains of their demolished home one more time. They were nearly losing a home but thought that they needed to try once more to search for their dog.

So what do you think the family ended up uncovering in the debris of their old home? The family was expecting to find only rubbish and piles of remains that the tornado had left after sweeping through their old home. They did not have much hope to find anything worthwhile so when they noticed something on the porch, they could not believe their eyes…

The whole family could not believe their eyes when they went back to look for little Mason for the last time! They saw that he was right there sitting and waiting for them to do exactly this. Was this real? Were they just dreaming of him? Since he had gone missing for days, the family could not believe their eyes when they saw Mason there wagging his tail and his tongue out…

After finally seeing him again after so long, the family ran to get closer to Mason. They soon realized that the last three weeks had been hell for him, that he had been injured and in a terrible shape, needing medical attention as soon as possible. They examined the condition of the dog and there was clear evidence of the hardship he must have faced. The reunion was truly emotional.

When Mason finally met with his family again, it was clear that he was excited. He was wagging his tail and made his way towards his family. They could not hold back their tears and started crying because of happiness. His family was awestruck to find that he had indeed lived through the terrible storm himself. Not only that, he found his way back home too!

It was even more heartbreaking to find that Mason was in such a bad physical condition. His owners were devastated to find him like this. He had lost a lot of weight and was incredibly thin. And on top of all that, his legs were broken! So why was this dog still as happy as ever? They held him dearly and hoped that their hug was enough to make up for some of the ordeals he had lived through.

So, when the family looked back in retrospection, they realized the exact timing that poor Mason had gone off the map. He had actually been sucked out of the garage because of the tornado and he had flown away due to the heavy winds. It can be said that some humans might not even be able to live through such a tragic incident like this but little Mason was a fighter.

Because of the terrible storm, poor Mason had his two front legs badly broken. Even though he had such a huge obstacle pushing him back, he spent 17 days walking back to find the place he once called home. He had lost a lot of weight and was now 14 lbs (6.4 kg) light. He was also dehydrated, and his fur was matted. Would he be able to go back to normal?

Even though Mason was back in the comfort of his family's care, his problems were far from over. Even though he was resilient and fought hard, he still needed to get medical help so that he could return to the playful and active family dog he was before the storm occurred. The family rushed to get the help he needed and deserved.

There was one other problem that the whole family was faced with. It was unfortunate that the storm had left the whole family homeless, so they did not even have enough resources to take better care of the poor helpless dog. The family after trying so hard to locate Mason was not about to let this be a problem. They looked quick and hard for a solution.

Mason's family was still homeless with no possession. So in the end, they had to call up the Birmingham-Jefferson County Animal Control Shelter since they did not even have the means to commute anywhere. Even though deep in their hearts they did not want to spend another day separated with Mason, they knew it was the right choice to let the shelter temporarily keep him.

Even though Mason's condition called for immediate medical care, his family had not ways of paying for the expensive medical bill. There were a number of breaks in his front paws and his legs had been fractured. Mason had literally crawled back home! Even though he and his family were unaware at the time. This was the start of something truly wonderful.

When the family finally took him to the animal shelter, the employees were impressed by Mason. "For an animal just to show up on someone's porch after all this time was pretty remarkable, especially with the condition he's in," explains Phil Doster, the coordinator of the animal shelter told MyFox Alabama. "It was just really sad, but really moving too, that this dog had made his way home on two broken legs."

"He was emaciated and his two front legs were literally flopping below the elbows," Doster further states, "Mason literally had to crawl on his elbows to get back. The little guy had no indication of pain, remarkably. He was just happy to be home. [His family] did not want to surrender him, but they were doing what they thought was the best thing for Mason." Doster thought of a plan for Mason and his folks.

As Phil Doster was inspecting Mason's condition he ended up calling upon the Vulcan Park Animal Care Clinic to find out whether there was a surgeon who could operate on Mason to save his life. So when they took him there and the people working there were informed of Mason's incredible story, they were so inspired by the remarkable tale of effort Mason showed.

When the clinic realized how tough and determined Mason was to get back home, one of the people working there took several X-rays of Mason immediately. This was not the only thing that took place in the clinic at that time. Mason and his amazing strive to live on had reached the ear of someone else who became inspired and deeply touched.

Dr. William D. Lamb who is the owner and veterinarian working at the Vulcan Park Animal Care facility in Birmingham saw that state that Mason was in and heard about his incredible story, he was so touched that he wanted to operate on Mason free of charge.
"He was dehydrated, malnourished, about 50 percent of his normal body weight," stated Lamb. As soon as Dr. Lamb could stabilize Mason, he took in two other orthopedic surgeons to assist him in fixing Mason's broken legs.

Mason ended up going through a straining and invasive three-and-a-half-hour surgery so that he could get his legs working again. 2 metal plates and a total of 17 pins were placed on the insides of his legs. It would have cost a lot of money if were like any other case but this time Mason's surgery was done for free.
That was not all. Mason was kept at the clinic as he needed to be fed, medicated and his bandages needed to be changed for him to fully recover. He needed around 5 weeks, but amazingly, Dr. Lamb again decided to do all of this for free. Mason's experience was luckily enough for him to get free treatment at the clinic.

Mason after the surgery looked and ate healthier. "He looks so much better. If all goes well, and he heals normally, we all expect him to be at 100 percent in three or four months down the road, and no one will ever know the difference," Dr. Lamb spoke about the dog, telling interviews about his weight gain too.
Even though Mason had gone through so much and had suffered a lot, he did not become saddened nor did he ever lose his spirit. Then, Chuck Eagar, the manager and veterinarian technician of the clinic who took care of him became closer to the well-behaved dog.

Since his family needed to get a proper residence to have him back, Mason had to wait about 4 months before he was fully recovered. Chuck Eager was already deeply attached to Mason. "I've seen dogs who have endured unbelievable hardships but I've never seen one who was that injured yet remained so happy and sweet," he confessed.
Chuck would often send progress reports about Mason to the family, calling them to visit often. "They have a little girl, and Mason is kind of her dog," Eager stated, "When they see each other, they both go crazy. His whole body wiggles when he sees her. She is so happy to see him, and so sad when they have to leave."

Because of all the overwhelming love and care that he received from his owners, Chuck Eager, and Dr. Lamb, Mason made a steady recovery. Even Phil Doster who was from the Birmingham Jefferson County Animal Control shelter gave Mason a few visits…
"He's doing better than expected. He's doing great, we could not expect anything better," Doster explained, "The prognosis is that he'll have no ill effects whatsoever from the breaks. He's one of the most remarkable stories we've seen. For a dog to go through what he's gone through and be so resilient and happy as he is, is pretty awesome."

Mason as able to gain about 4 lbs (1.8 kg) rather quick and had physical therapy session for his legs during the 4 months course of his time at the clinic. The bandages and stitches were taken off and now Marcus had on purple casts before he could get back home.
He was quite friendly with the other dogs at the clinic and would watch the TV together with them. "I got it for him because he flew around in the tornado and came through it like Superdog," revealed Phil Doste when asked about his red cape. Mason was about to earn a medal for his courage and bravery.

Dr. Lamb was still in awe of Mason incredible zeal to stay alive. "I'd have been curled up in the fetal position, licking my wounds, waiting to die," he confessed, admiring the dog's bravery. He was absolutely moved by Mason's undefeated spirit.
After all of the combined efforts put in by everyone, Mason could now join his family back home. "The real joy in all of this is that Mason is going to be able to return to his original family. It just makes your heart feel good," Dr. Lamb expressed, "We're really excited that the family is going to be able to take him back home," he added.

Mason had been through a hell lot of obstacles but in the end, he became a survivor. He was then given the memorable nickname "Mason the Brave Tornado Dog," that was coined by none other than Chuck Eager who also started a Facebook page just for dear Mason.
Mason's story touched many and in no time, he gained about 7,000 followers and even the media was involved. He had been on several national news segments and in People magazine for stories that revolved around pets affected by the tornado.

Upon hearing the news that Mason had finally made a full recovery and that he was now ready to come home, his owners were overjoyed and tears came rushing down their faces. Even when he went back home, Mason showed an incredible progress in regaining his health.
Mason in no time, went back to being that adorable, playful little pup that the family loved so much. However, his fear of loud noises was something hard for him to overcome. "He does have a little issue with loud noises after being sucked out of a garage by something that sounds like a freight train," Dr. Lamb stated.

Since Mason's incredible story of survival was indeed commendable, he ended up getting featured on Time Inc. book called People: Amazing Pets!. This is a pet magazine run by the people who also work for People magazine.
Mason's story was headlined "Tougher than a Tornado," that spoke about all the pets that had lived through devastation and loss but still thrived. Phil Doster also revealed how Mason's injuries were way worse than any other animal that was affected. Doster ended up saving several other pets during this time too…