We all make some silly decisions from time to time. That's why, every once in a while, we need somebody to guide us in the right direction.
Most of the time, our friends have our best interests at heart and we just need to listen to them. That's why they're our friends—they know us better than we know ourselves!
Surprisingly, animals are the same way. Take this cat, for instance, who's convinced that he knows what's in his infant human's best interests. So much so that, when he thinks it's time for the little one to take a nap—and the baby disagrees—he does the funniest thing!
When you're a parent, guardian, or even an older sibling to a baby, you know how difficult it is to get the little ones to fall asleep—and stay asleep. If they don't, it's nearly impossible to get any rest yourself!
That's just part of the reason why those rare moments when your baby is calm and catching Zs can be so precious. It's also important to note that a sleep schedule is essential to their health as they grow, so it's not just helpful for you when they sleep—it's great for them, too!
That being said, it's perfectly natural for a baby to wake up crying in the middle of the night if they need a diaper change or something else from their parents. Still, they need to go back to sleep… and apparently, even our pets know that!
One sweet cat noticed that his adorable baby pal was still wide awake despite the late hour. The good news was that the baby wasn't crying, and he didn't even seem to be upset at all. If anything, he just seemed a little confused!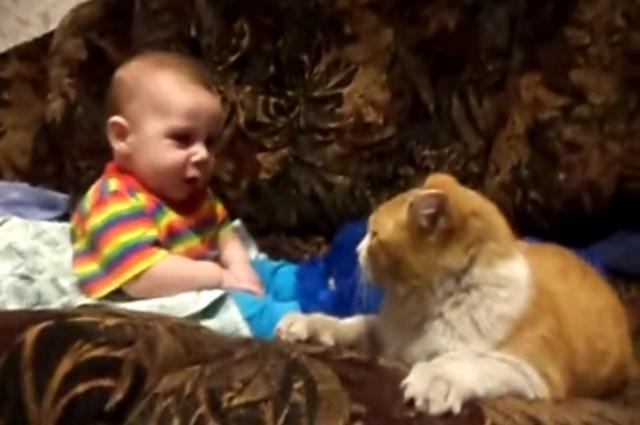 That's when the cat got up and started to show the baby what was what. Luckily, the baby didn't seem to be frightened at all, but he did seem to respect the cat's authority enough to lie back down!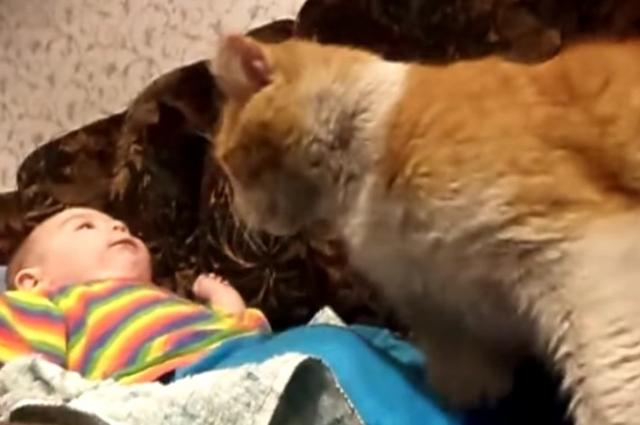 Apparently thinking that his job of putting the baby to rest was over for the moment, the cat turned away. He seemed to trust that the baby would fall back to sleep as soon as he was lying down again.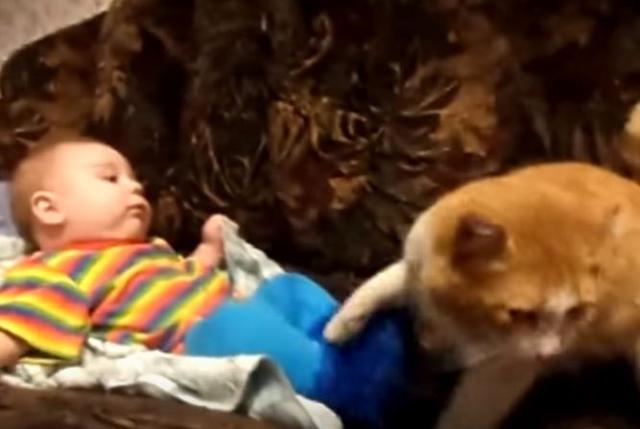 That moment didn't last too long, though, because almost as soon as the cat turned his back away from the baby, the child was sitting up again. It really seemed like he wanted to play with his furry friend!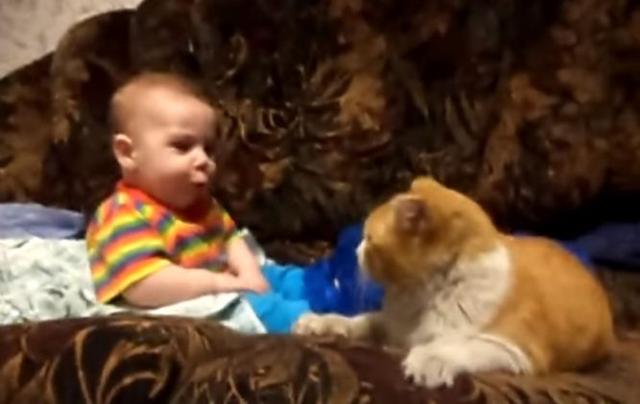 As lovable as the little baby was, the kitty was not happy that this child was disobeying him! So once again, the cute cat got right up in the baby's face, forcing him to lie down once again. "You'd better go back to sleep or else I'm telling Mom on you!"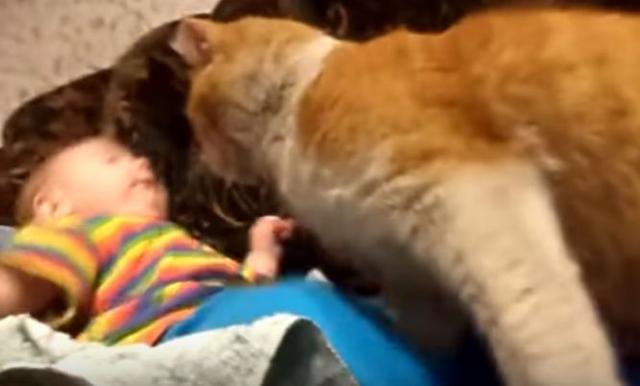 If nothing else, that baby had to understand who the boss was by that point. It's great that the cat seemed to possess such a strong sense of responsibility, but perhaps he was overstepping his authority a little bit…
The best part of this hilarious story is definitely what happened next! You're not going to want to miss what the cat finally did to make sure that the baby laid down and stayed down. Get ready!
That not-so-sleepy baby just doesn't get it. Good thing he's got his cat friend there to show him that nap time has arrived!