Each of these animals survived horrific injuries and were left without the means to eat, drink, or walk. Thankfully, dedicated caretakers and 3D printing technology have provided them with the means to start new lives with cutting-edge prosthetics. Scroll down to check out these amazing creatures!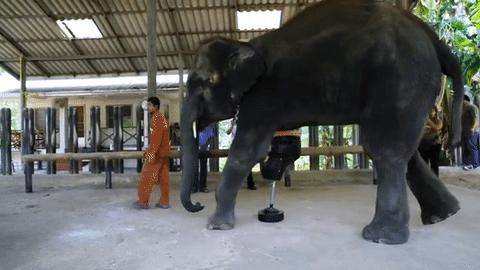 Beauty, the bald eagle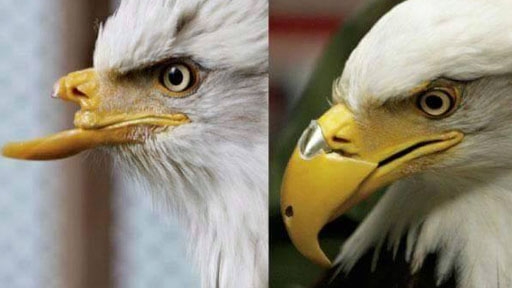 Image: Eagle/FB
This beautiful bald eagle was shot in the face by a hunter when she was six years old. Her beak was completely destroyed and she was left to starve in the woods. Thankfully, someone found her and immediately transferred her to a wildlife rehabilitation center.
Despite many experts telling her to euthanize Beauty, Birds of Prey Northwest medic Jane Cantwell knew something could be done. She teamed up with 3D printing engineers, wildlife experts, and a Dentist to develop this Solidworks nylon polymer beak.
Lola, the sea turtle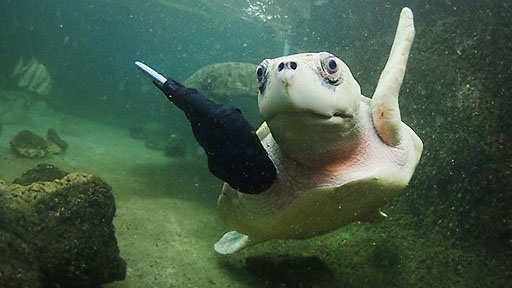 Image: Port Ansas South Jetty/FB
Lola lost her flipper a decade ago when she became severely entangled in fishing line. Knowing this, students at Worcester Polytechnic Institute assisted with the development of a prosthetic flipper in hopes of helping her and other injured sea turtles in the future. Using 3D printing, the students created the first ever "hydrodynamic biomimetic" flipper.
Lola is now able to swim and feed normally, and remains an ambassador for her species at the Key West Aquarium. Kemp's ridley sea turtles are the rarest sea turtles on the planet, and are critically endangered; only about 1,000 nesting females remain.
Winter, the dolphin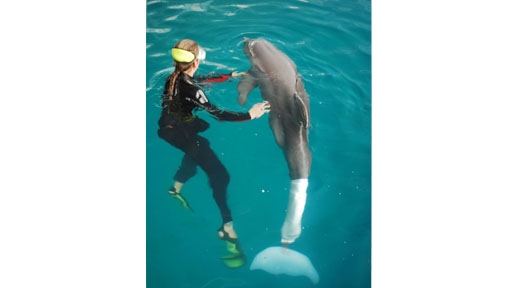 Image: Imagine Communications
Winter, a bottlenose dolphin, was found stranded in a lagoon near Cape Canaveral, Florida. At only two months of age, she had become wrapped in a crab trap line which cut off circulation to her tail flukes. The rescue team at Clearwater Marine Aquarium tried to heal her flukes but despite their best efforts, the tissue could not be saved.
Though she does quite well without the use of her flukes (swimming side to side like a shark), this unnatural movement puts stress on her spine. Knowing this, a team of experts came together to develop a silicone and plastic tail for her. With it, she swims much more comfortably.
Akut-3, the sea turtle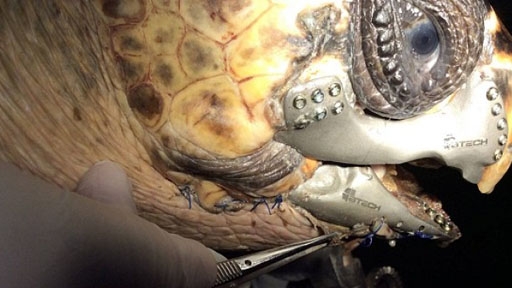 Image: Ocean Conservation Society
This 100-pound loggerhead sea turtle named Akut-3 (or, less formally, "Terminator" Turtle) endured a boat collision that obliterated his jaw. Lucky for him, someone found him in distress and brought him to Sea Turtle Research Rescue and Rehabilitation Center in Dalyan, Turkey.
Knowing he wouldn't be able to fend for himself without the use of his jaw, the rescue team partnered with BTech Innovation, a company specializing in medical prosthetics. Together, they were able to develop a 3D jaw for this tenacious turtle. If his body doesn't reject the prosthesis, it's possible that he will be returned to the wild.
Mosha, the elephant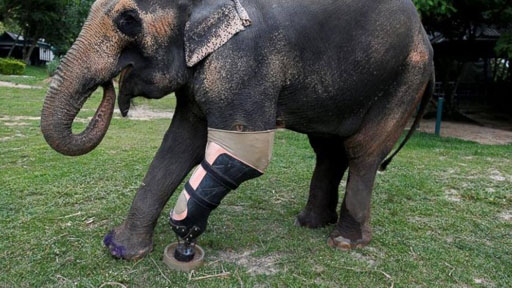 Image: ALLvdo/FB
This sweet asian elephant named Mosha was only seven months old when she stepped on a land mine and completely destroyed her front leg. Wanting to give her a better life, wildlife rehabilitators at Friends of the Asian Elephant set her up with a prosthetic. Because animal prosthetics are a work in progress, this is now her ninth artificial leg!
Land mines are common around the region due to decades of rebels fighting with the Myanmar government. Unfortunately, foraging animals often suffer as a result.
Fred, the tortoise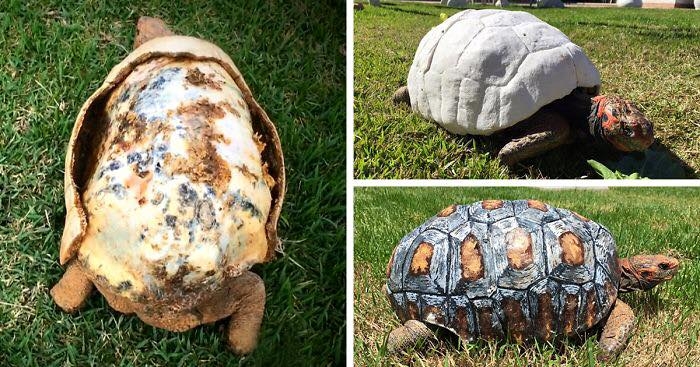 Image: ArchiEli/FB
Fred the red-footed tortoise, actually a female, lost the majority of her shell in a forest fire. Not only did she lose her shell, she survived two bouts of pneumonia and 45 days without food. Lucky for her, a team was willing to put in the time and effort to nurse her back to health and to build her a new shell.
The elaborate corn-plastic based plastic shell was printed using a 3D printer, and it took over 50 hours for each piece to print. Then, the team assembled the shell and painted it to look more realistic. Fred now enjoys an easier life with a dedicated caretaker.

Grecia, the toucan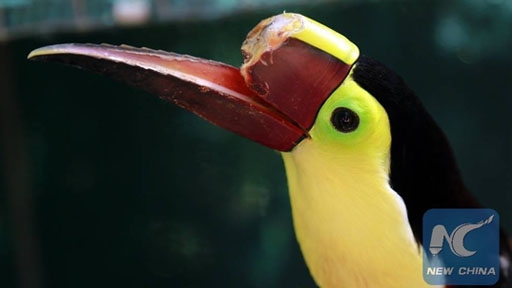 Image: China Xinhua News/FB
Grecia had her beak hacked off by an unknown individual in Costa Rica. Thankfully, compassionate locals brought her to a rescue center where dedicated workers nursed her back to health. Knowing she wouldn't survive without a functional beak, doctors and engineers developed a prosthetic beak that would help her live a more normal life.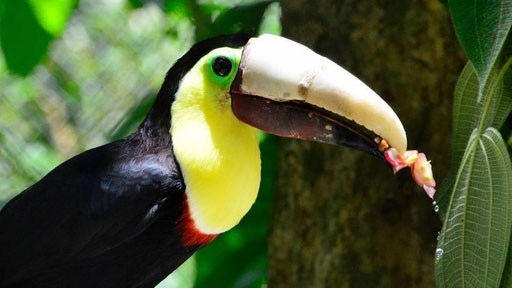 Image: My Costa Rica/FB
Her two-part beak is made of nylon and was created with a 3D printer. The top portion was glued to her "stump" with epoxy, and the second part is attached with a pin. The team decided to attach the larger portion with a pin so it can be removed for cleaning.
Now, she lives comfortably at ZooAve, a private animal rescue center outside Costa Rica's capital.
Buttercup, the duck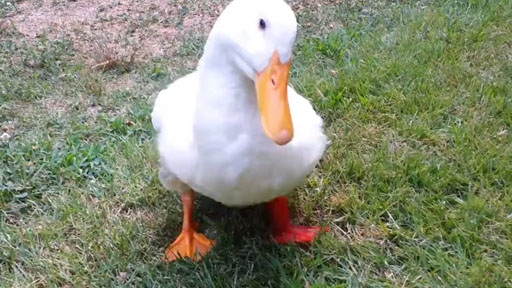 Image: Animals Australia Unleashed/FB
When Buttercup hatched, her foot was turned backwards. Her owner attempted to rehabilitate her so she could walk normally, but doctors told her that the foot would need to be amputated.
Luckily, experts at Feathered Angels Waterfowl Sanctuary helped to create a foot for her using 3D printing technology. Her new foot helped her walk normally immediately.
Vitoria, the goose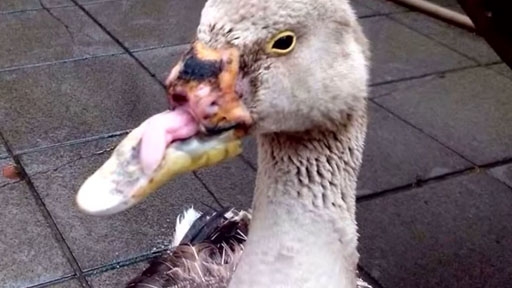 Experts aren't exactly sure what happened to Vitoria, but they suspect that she was either attacked by dogs or had been severely beaten. When rescuers first found her, she was unable to eat and was losing weight rapidly.
Brazilian 3D designer Cicero Moraes worked with a team of surgeons and wildlife experts to create a temporary beak for Vitoria so she could eat. Then, they got started on a permanent beak. After a battle with pneumonia and 3 surgeries, she was finally able to eat again. She is now cared for by her original rescuer in the Sao Paolo countryside.
Rhino Horns
A new 3D printing technology might be able to rewrite the story of one of the world's most endangered creatures — the rhinoceros.
The Pembient company has been able to reproduce the rhino horn, which is prized on the black market for its medicinal and cosmetic value, and is hoping to put rhino poachers out of business.
Last year, 1,215 rhinos were poached — or one rhino every eight hours. Wildlife experts think the entire range of rhino species could be extinct in five to ten years. Rhino horns are especially valuable in Asian countries, where they are a status symbol and the horns are used in various traditional remedies. The horns sell for $30,000 a pound, more expensive than cocaine and even gold.
Amazingly, the new technology recreates horns that are exactly like the real thing, indistinguishable in lab and genetic tests. They use the same keratin proteins, inorganics, metal, minerals, and actual rhino DNA to achieve their results.
Some wildlife experts are skeptical about the replicated horns, thinking that it will only make it harder to catch the poachers who are selling the real horns illegally. The horns are so valuable that poachers in developing countries can feed their family for a year after selling just one, so distributing the faux horns into the end-user market might not stop the slaughter.
Pembient founders are hoping that if they instead sell the manufactured horns (which cost just one-tenth of the price to reproduce in the lab) to would-be poachers, that they can help them still make a profit and save the rhinos and their precious snouts.