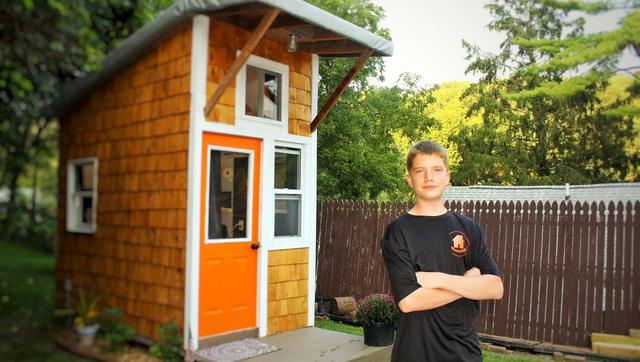 What were you doing at 13 years old? Whether you were playing in a sports team, focusing on your education or simply hanging out with your friends, there's really no wrong way to spend your childhood. But whatever you were doing, we bet you weren't building your own house like one precocious teenager did in Iowa. And what the young man in question produced has to be seen to be believed.
Houses in the United States have grown considerably over the past few decades. Indeed, the average family home is now said to amount to a whopping 2,600 square feet, according to statistics. But as the size of the average family is moving in the other direction, such enormous homes aren't for everyone. That's where the tiny house movement comes in.
Indeed, plenty of people are choosing to live in much smaller homes, which are typically around 1,000 square feet or fewer. Furthermore, this move towards small-space living has led to some brilliantly inventive architectural creations in order to make the most of limited room. And there are plenty of reasons to favor such petite abodes – not least because of the potential financial benefits.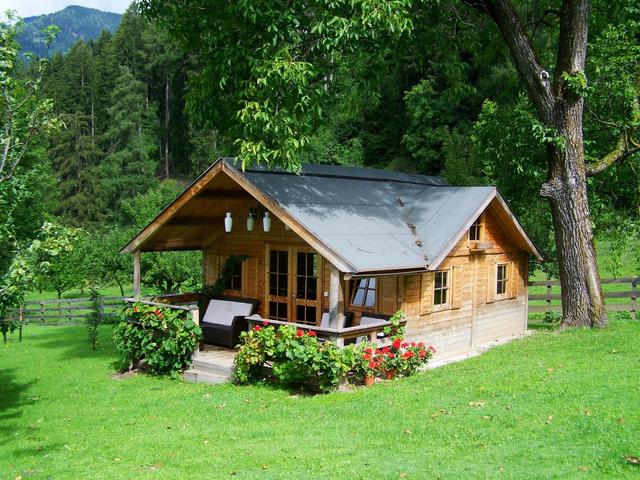 Yes, according to The Tiny Life – a website that features information about smaller dwellings – tiny house owners have more savings, less credit card debt and fewer financial commitments than traditional homeowners in the United States. There are other benefits to tiny homes too, including simpler, less cluttered lifestyles and smaller ecological footprints.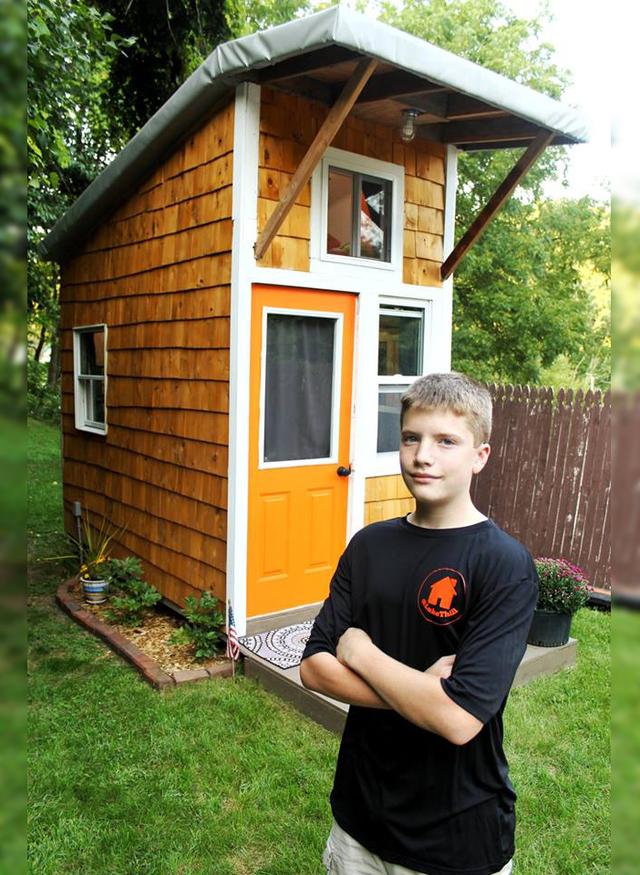 Financially and environmentally savvy adults aren't the only ones involved in the movement, however. Just ask Luke Thill, who's 13 years old, hails from Dubuque, Iowa, and has built his own tiny home from scratch for just $1,500. That building sits in his parents' backyard – and as Thill told The Des Moines Register., he very much considers it to be a "starter home."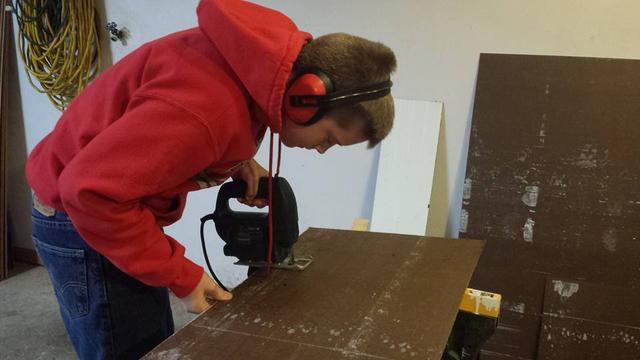 And the dwelling is certainly small: at 10 feet long, 5.5 feet wide and 10 feet tall at its peak, it covers just 89 square feet in total. As for how it came into being in the first place? Well, in the summer Thill had found himself with plenty of time on his hands but very little to do. During the same period, though, he'd started getting interested in the tiny house movement after watching videos about it on YouTube. So, as it happens, he decided to see if he could create his own minuscule home.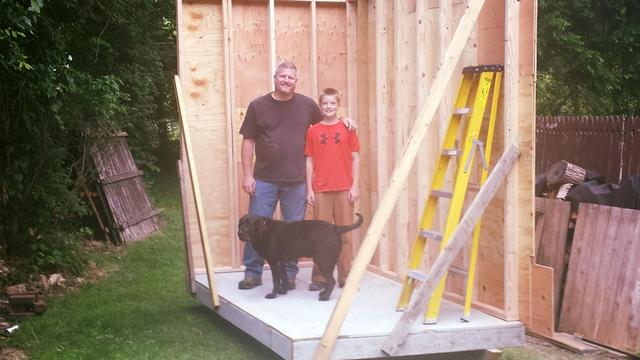 Obviously, though, the teenager didn't possess all the technical know-how required to build his own house from the ground up. Thill did, however, have some familiarity with power tools, which he'd watched his dad use growing up and had even got his hands on himself at some points. But for the parts of the project he wasn't so familiar with, he figured out a great way to get help.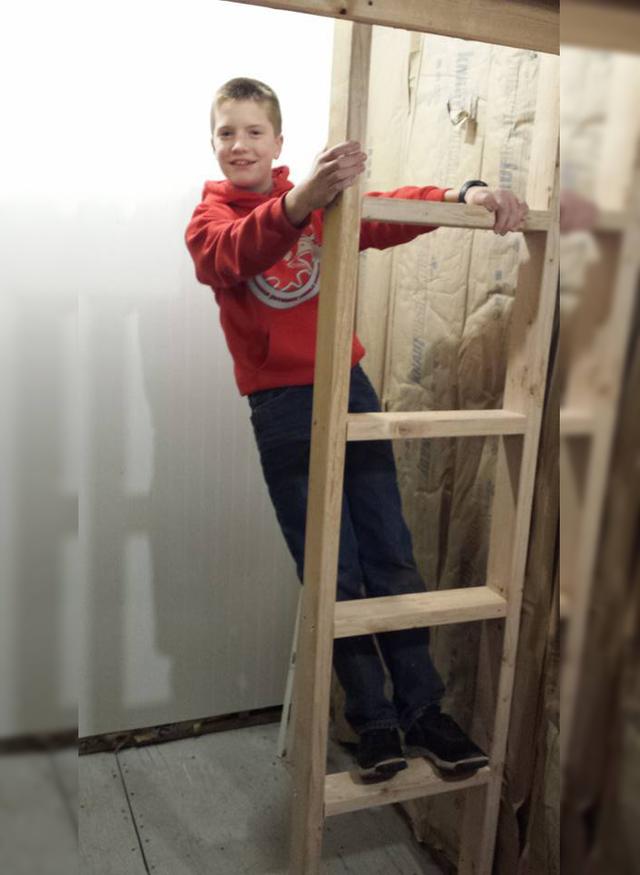 Yes, Thill struck deals with people he knew, exchanging his services for theirs. For instance, he had no clue how to wire up the electricity in the house; however, there was an electrician who lived down the street and was friends with his father. So, in exchange for Thill tidying up his garage, the electrician agreed to show the youngster how to connect up his home.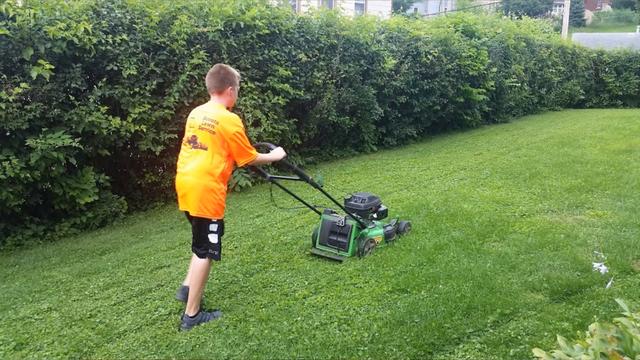 Meanwhile, the upper loft area of the house needed carpeting – again, something Thill had no experience with. Luckily, though, he knew a local scout leader who could help him do the job as long as Thill agreed to mow his lawn. Indeed, Thill raised much of the money he needed for the house through odd jobs.
Then, when it came to the physical building of the structure, Thill worked day and night with his dad. In fact, in a video on his YouTube channel, Thill has said that the pair bonded closely over the project. And despite his dad also working a full-time job and going through college, he still found time to help his son build his tiny home.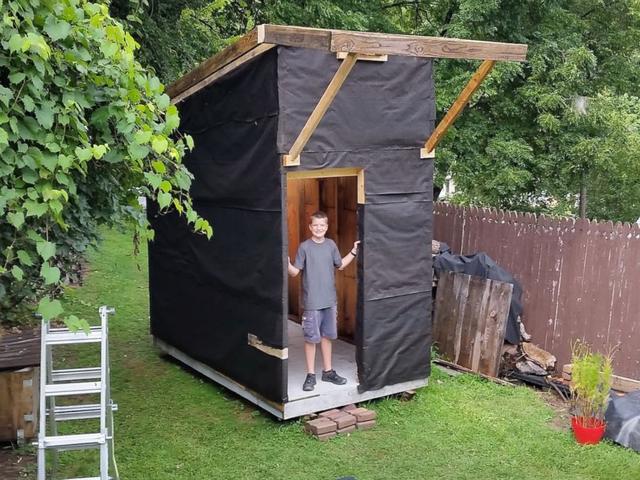 Naturally, Thill learnt a lot about construction from the project. Framing in particular gave him a learning curve, but as his dad had had experience with remodeling projects, he was able to guide him through the process. And around halfway through construction of his tiny home, Thill launched a YouTube channel to document everything.
And once the house was finished, Thill posted a video tour of his tiny home to his channel – beginning with the exterior. There, the front and one side wall are made from cedar shake timber, while left-over vinyl siding from his grandmother's house completes the back and other side. Indeed, much of the house is built from reclaimed materials – apart from one window, for which Thill paid $35.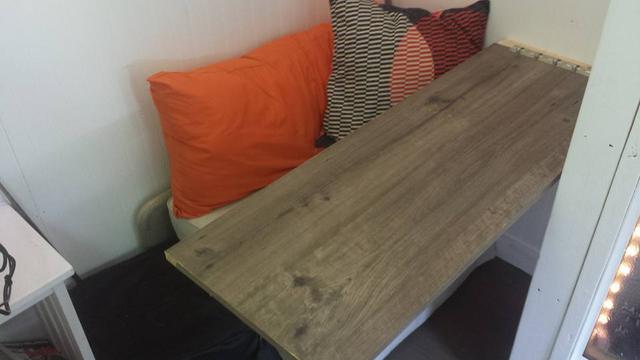 Then, Thill introduces us to the interior of his home. And while it's certainly tiny, it's also amazing just how much he's managed to cram in there. Immediately within the entrance lies the kitchen, which includes a countertop with a medicine cabinet overhead; a mini fridge and storage cupboard sit beneath. The section even boasts a hotplate for cooking food.
The living area, meanwhile, makes use of an Ikea ottoman as a couch with built-in storage; that item of furniture also acts as seating for the fold-down table that rests up against the wall. Meanwhile, a ladder grants entry to the house's loft area, where there's a mattress, storage for Thill's clothes and safety equipment including a fire extinguisher and smoke alarm.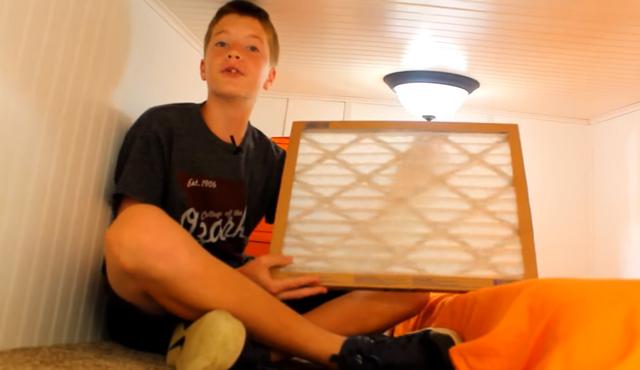 With no air-con, Thill regulates temperature in the summer using furnace filters, which he sprays with water and places near the window to cool down air as it passes through. In the winter, meanwhile, he uses a space heater to keep warm. The home has no plumbing, however, and so bowls and jars are used for water storage and transportation.
It's probably no surprise, then, that Thill doesn't live in the home permanently. Instead, he sleeps in it a couple of nights every other week. He does spend plenty of time in there otherwise, using it as a designated "homework center." And, eventually, he hopes to build a bigger tiny home, referring to this first iteration as a "learning tiny house."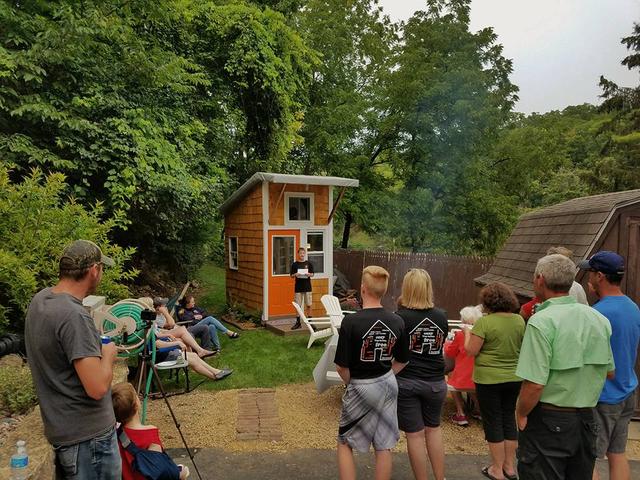 However, one major problem that tiny home builders often face is that of zoning regulations, which usually specify a minimum size for new homes built on foundations. In Thill's case, though, the lack of plumbing in his home worked to his advantage. Indeed, according to his father Greg, Dubuque's city codes don't consider it a home in its own right but more of a "glorified shed."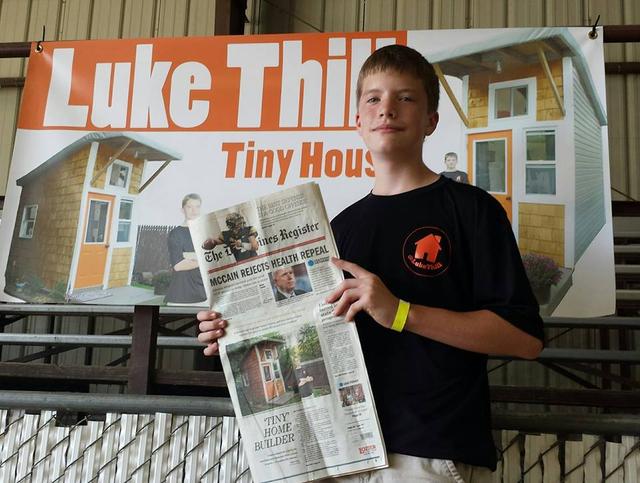 Furthermore, Thill's incredible story was picked up by local newspapers during the building process, making him somewhat of a celebrity in the area. His tour video also went viral on YouTube; it's since racked up nearly nine million views. And the young man even gave a talk at a festival celebrating the tiny home movement in Colfax, Iowa.
Thill said at that event, "I liked the minimalism, and I wanted to have a house without a huge mortgage. I want to show kids it's possible to build at this age." Meanwhile, his dad spoke about the benefits of the project for his son. "It was a chance for a kid to do something more than play video games or sports," he said. "It teaches life lessons."
Indeed, there's no denying that Thill has learned plenty of lessons from making his house. After all, he's had to get to grips with specific construction skills – including building frames and circuitry – during the endeavor, not to mention more universal talents such as managing a budget and dealing with grown-up suppliers. In fact, his "starter" tiny home has likely set him up for something even bigger and better in future – although not too big, of course…