You can tell a lot about a school by the way they punish their students. Educating young minds is a lot easier said than done, and there are many different methods that people use to get their message heard. The same is true for parenting – some mothers and fathers are super strict with their kids, and some are a little bit more "chill."
How you choose to be a parent is really up to you – but when it comes to schools, where they're dealing with the children of countless other parents, things can get a bit dicey. Who's to say that their methods will be synonymous with that of the kid's parents? Quite often you have parents who complain quite a bit, if they feel their kid was mistreated.
This was especially true in this story… One school in Oregon really got the gauntlet thrown down on them when a particular photograph was shared online, depicting how they treat their students. By the time everyone had their say, the school's educators came with their tails between their legs and practically begged everyone for forgiveness.
Outrage over the photo
Indeed, there was ample outrage and endless complaints over the photograph that was getting passed around the web like a marshmallow on a stick. In this picture was a 6-year-old child embarrassed beyond belief – and you'll get to see it very soon.
His school had punished him in a particular way, and it was clear that this was no normal punishment. When the boy's parents saw the picture, they practically lost their minds, and that's when they got everyone else involved.
Receiving threats
In fact, there was so much outrage in light of the picture that the school started receiving threats over the phone. John Higgins and Missy Fitzsimmons, the superintendent and principal, respectively, received these calls personally, and eventually they were forced to change their ways.
Whether or not they learned from their mistakes, it was clear they heard the message. But what exactly had they done that was so bad? How did they embarrass this poor 6-year-old, and most importantly, why? What about this mysterious photograph sparked the angry passions of thousands of parents around the world? Well, it all started out with something as simple as a boy coming late to school. Seems harmless, right?
She noticed her son crying
Apparently it wasn't so harmless – or at least not according to the school. The mother of this child, Nicole Garloff, happened to be at her son's school one day, and when she saw him, she noticed that he was crying. Anyone who has a child knows how heart wrenching that must have felt for her, and she immediately took him straight home.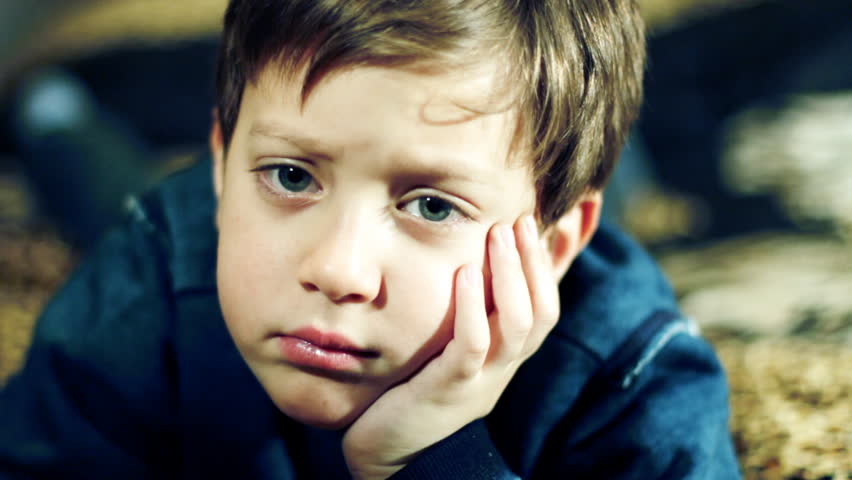 She had to know what was going on in her son's mind, so she asked him why he was crying. When he totally her the situation, she was devastated. This was the final straw, and it was what led to the eventual photograph being taken of her child at school. Now we're about to tell you the exact reason her son was so distraught.
The photograph in question
As you can see in this photograph, Hunter, the young first grader, was shunned to the side of the lunchroom, to eat his food alone, away from all the other children. There are a number of other disturbing things to note in this picture, aside from the obvious fact that he's eating alone.
There's a large cardboard "screen" that's been set up around him so that he doesn't even see any of his classmates, and so that they don't see him either. Finally, there's an upside down bucket of some kind on the side with the letter "D" on it. This letter is intended to stand for the word "detention," signaling to the rest of the school that he's done something wrong.
Isolated and shamed
After hearing their son's testimony, he said that they apparently have done this to him at least six times! This is pretty alarming when you consider how brutal the punishment is. True, they aren't putting him in a "chokey" like Mrs. Trunchbull did in Matilda – but they're giving him a much different kind of pain.
They're giving him a feeling of loneliness. A feeling of isolation from the rest of his peers. No matter how good or bad a young kid is, they need to be interacting with other kids. Don't forget that this young boy is only six years old! Kids at that age are still learning the ways of the world, and it's wrong to put them out of touch with others.
What Hunter did
Now, you might be asking yourself the question… What did Hunter do to deserve such a punishment? Had he been fighting with another student? Was he making jokes in class when he should've been paying attention.
It turns out that none of those things are true. In fact, the reason they kept putting him in the "detention" seat at lunch was because he kept coming late to school. In their eyes, that was an offense that needed to be made an example of.
The morning that changed it all
But it wasn't until one morning that things really got set off. Hunter was getting ready to go to school, and things were taking quite a while to get going. Hunter was basically ready, but everyone else wasn't.
Once Hunter realized that they were going to be late, he started freaking out, and trying to make everyone else hurry. By that point it became clear how serious this situation was – it was obvious that the school had scared this student, but not in a good way!
Grandma takes action
That's when the grandmother decided to take matters into her own hands. Her name was Laura Hoover, and she was actually pretty tech savvy.
She was able to get hold of a picture of Hunter sitting at the detention table, and she shared it on her social media page. In her post, she wrote "This is my grandson, Hoover." She then explained to all of her friends the situation, and implored them to see what was going on at his school.
Unexpected masses
The grandmother was only hoping for support for her family, and maybe from her friends and the local community as well – but what she didn't expect was for thousands and thousands of other people to go crazy over the picture.
She never expected hordes of working class Americans to start sharing the picture with each other, and when that happened, she realized they were on the brink of something meaningful. But the support didn't stop there.
Network attention
It wasn't long before this now famous photo reached network airwaves. A local radio host by the name of Bill Meyer happened to catch wind of it, and he described the "school policy as unjust."
After that another local news station caught wind of the story, and they even spoke about it on their TV program! Now there was no way for the school to escape what they were doing… But there was another element to this story that needed to be expressed…
Wrongly blamed
People kept talking about what the school had done, but there was another thing that interested people quite a bit – the actual reason that Hunter kept coming late to school.
We all agreed that the school's punishment was a bit harsh, even for a kid who comes late to school. But Hunter wasn't actually to blame for coming late in the first place! As you'll soon see, he was forced to suffer consequences for things that were outside of his control all along.
Only a few minutes
First of all… it's not like Hunter was arriving an hour late to school. We're talking about marginal increments of lateness. Some days he would come a couple minutes late, some days five minutes, and some days even one minute.
The point is you get the idea we're trying to make. The school was exaggerating the seriousness of the situation. But now we're going to tell you why he was coming late, and it wasn't his fault.
Car troubles
One of the reasons that Hunter comes late to school is because his family has car troubles. This isn't something irregular and many people deal with similar issues in their household.
Maybe his family isn't very wealthy and were having trouble paying for it to get fixed. One thing we can definitely be sure of is that this is not something that was his fault. There's no reason he should be reprimanded for it. But that's not all.
Mom's condition
Another reason that Hunter comes late, and this reason is slightly harder to talk about, is that his mother deals with a certain illness called osteoporosis.
This means that every now and then she deals with pain in the morning, and it's certainly not always very easy for her to drive her son to school every morning. She said, "It's especially hard for me to get going." Again, this is hardly something that Hunter should've been penalized for.
Dad speaks up
Hunter's father, Mark, spoke in depth about this exact subject, and how it's absolutely absurd that his son should be getting into trouble for something that's "not in his control."
He couldn't believe that the school is shaming him for what he's doing, and he added, "It's our fault that he's late." You may ask, well are there any other ways for Hunter to get to school other than getting driven there? Well it turns out there's a story there too.
Can't ride the bus or walk
It's not uncommon at all for young students to ride the bus to school. People have been doing it forever, so is it possible for Hunter to do it? His parents addressed that issue, saying that he can't take the bus because he's only a mile away from school.
Apparently the bus is only for folks who live further. Then they said that he also can't walk to school because the road is too busy, and it's certainly too dangerous for a young boy on his own.
The school tries to defend themselves
So you may be asking yourself, what did the school have to say for themselves? How could they respond to these things? Well, it turns out that the school actually had something to say about all of this.
They defended themselves, saying that their policy was "never intended to isolate or stigmatize students." They explained that the only reason they put the cardboard partition is for the late student to catch up on work that he or she missed while being late.
A flaw in their statement
This is all nice and all, but if that were true, what's the point of putting a giant letter "D" for detention next to him? If the purpose of isolating the student from distractions was solely based on his education, then there should've been no reason to put that letter "D" there.
This is probably the reason that thousands of people around the world felt like the school was shaming this child, and mocking him in front of other students.
Feeling the pressure
However, like we mentioned earlier, the school eventually started feeling the pressure of everyone around them. Regardless of whether or not they agreed with it, they realized that they would have a problem on their hands if they didn't change their ways quickly.
The networks were looking their way, the radio hosts were looking their way, and most importantly… the parents of the world were looking their way. So it was time to make a change, and fast.
Change of policy
So that's exactly what they did. Not long after this whole debacle took place, Lincoln Elementary School in Grants Pass, Oregon changed their basic policy on tardiness. They agreed that they would never put up a partition like they used to as a punishment.
They also got into contact with Hunter's parents and apologized for what had happened. Of course, this was after getting tons of complaints, and of course receiving intimidating threats over the phone.
Finding a middle ground
However, there was a level of compromise to the school's reconciliation. When it comes to detention, there would still be a designated room for students to catch up on their schoolwork – it just wouldn't be in front of all the other students in the lunchroom.
Instead, it would be taking place in a supervised classroom separate from everyone else. All parties agreed that this was reasonable, and the district said that the meeting had been "productive."
Community support
As for Hunter and his family, they were receiving immense support from not only their local community, but from people all around the world.
His mother Nicole said that it "doesn't seem real," and that she's been explaining to Hunter that what's going on doesn't actually normally happen to most people. Nevertheless, it's clear that after all they went through, a little bit of support must feel good to receive – and we hope it allows them to move forward positively in their life!