For an animal that's known for loyalty and dedication, dogs sometimes don't get enough credit for the lengths they're willing to go for those they love.
For instance, when Adam and Donya DeLuca adopted a German shepherd named Haus from a Florida shelter, they knew they were bringing "man's best friend" into their home. They hoped the two-year-old pup would make the perfect companion for their children, including their seven-year-old daughter, Molly.
So when Donya's mother saw Haus jumping violently around Molly, fear jumped into her heart. Was the dog trying to attack the young girl? But then she realized the amazing truth…
The phrase "man's best friend" doesn't quite do justice to how far dogs will go to show their devotion. For many pet owners, dogs bring them joy and companionship. But the DeLuca family, who adopted a two-year-old German shepherd named Haus, got much more than they bargained for.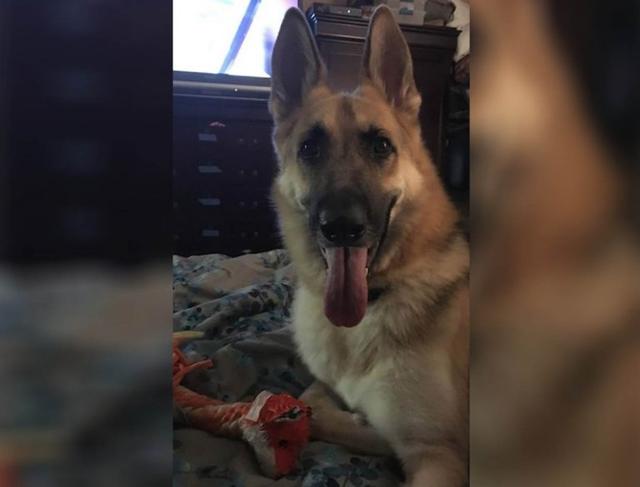 Donya DeLuca
When Adam and Donya DeLuca brought Haus home from a shelter in Tampa, Florida, he fit right in. As Donya told Today, "He just bonded with all of us so quickly, it was like he was always part of our home." Even the neighbors loved Haus. In all respects, he was the perfect family dog.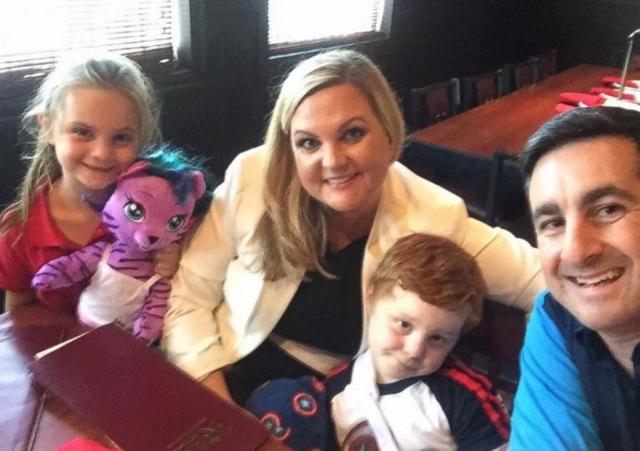 Donya DeLuca
One day, seven-year-old Molly was gathering toys in the backyard with Haus by her side. Her grandmother watched from the doorway of the screened-in pool. That's when she saw Haus act in a way that would forever change the family's perception of him…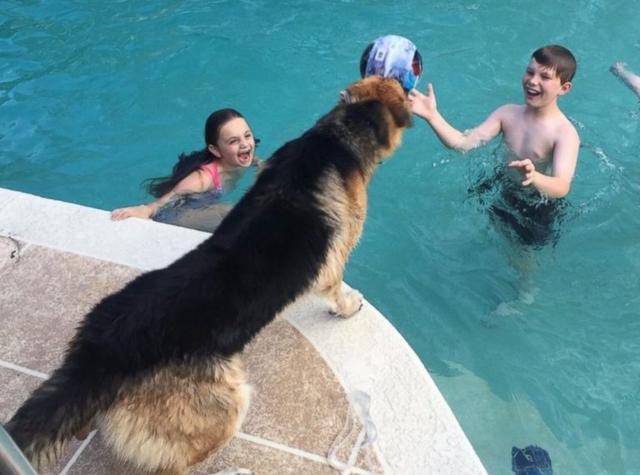 Donya DeLuca
Haus was acting suspiciously, and it was terrifying. "He kept jumping back and then forward," Donya demonstrated for WFLA. "And he did it three times." Of course, Donya's mother, watching from a distance, feared the worst. A young German shepherd, new to the family, moving aggressively around a little girl? That was a recipe for disaster.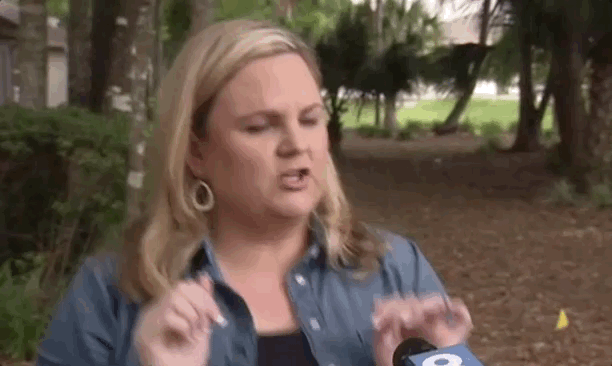 The grandmother's story, as relayed by Donya to various news outlets, was that she "didn't even realize what he [Haus] was staring at—but then all of a sudden there was all of this blood" covering the dog. In a panic, the grandmother called Donya, who could hear Molly crying in the background. What happened? Did Haus viciously attack Molly?
The truth, however, was quite surprising. As they picked up toys on the far side of the yard, Molly and Haus had come face-to-face with a deadly Eastern diamondback rattlesnake. Coiled and angry, it struck at Molly—only to have Haus jump in the way instead. Tragically, his act of bravery came with an astronomical cost…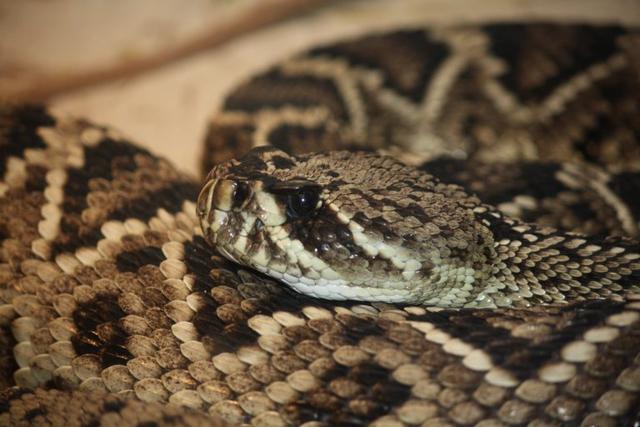 "He [had] instantly positioned himself between the snake and Molly," Donya said. He could have run, but Haus's protective instincts had him stand his ground, which allowed Molly to retreat to safety. With every bite, Haus suffered more and more. Afterwards, he was a mess.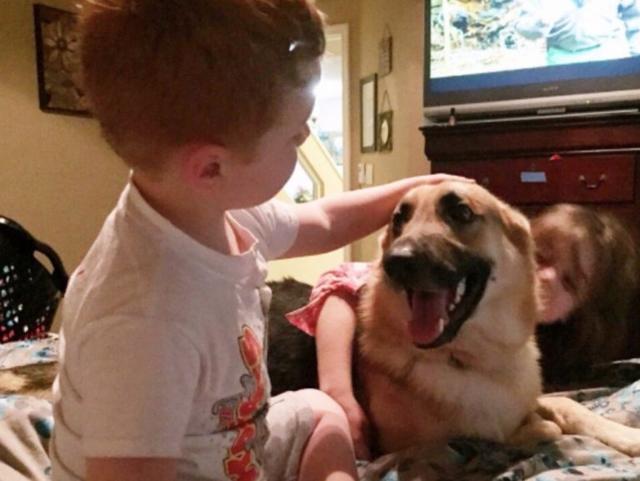 After the attack, the poor pup could barely walk. He limped, drooled, and his head hung down, unable to move. He struggled to breathe and his leg hemorrhaged blood. If a 68-pound German shepherd suffered in that way, can you imagine what those bites would have done to little Molly?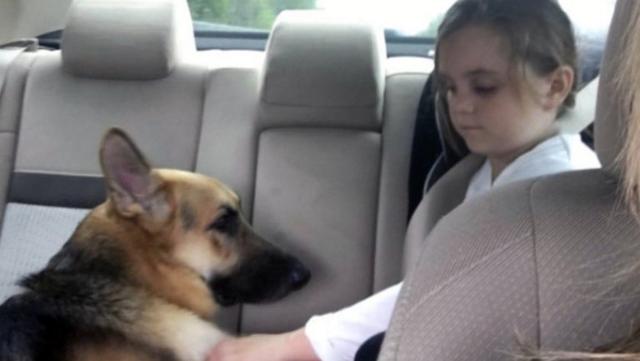 Donya rushed home and immediately loaded Haus into the family car and sped to a veterinarian emergency care facility. With snake venom in his system, the brave pooch didn't have much time…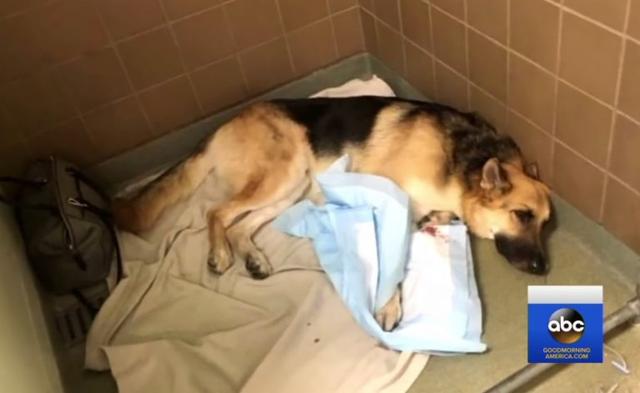 "What [a rattlesnake bite] can do is a lot of bad things," veterinarian Danielle Pollio said. "It can cause problems with clotting, so they can bleed into the wound uncontrollably." The Eastern diamondback is the most venomous snake in all North America, and dogs who are bitten once have a mortality rate as high as 30 percent. Haus had been bitten three times.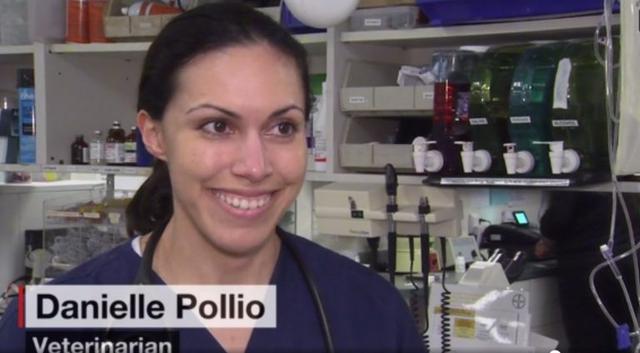 Within minutes of the attack, Haus's symptoms had already accelerated exponentially. When he reached the medical facilities, doctors gave him nine vials of antivenin. But they weren't as effective as they needed to be to save the pooch's life…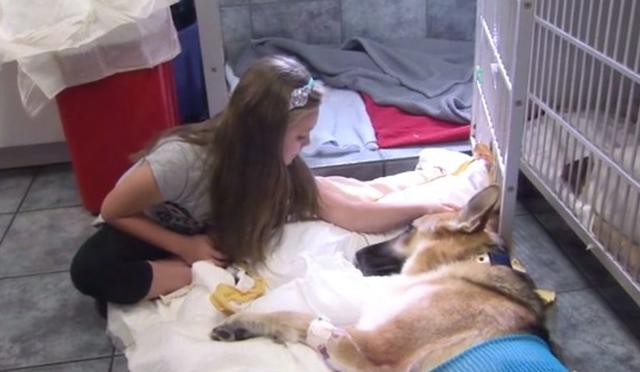 Instead of injecting Haus with individual vials, doctors set him up with an IV drip of antivenin and administered painkillers. He received antivenin four times every day for four straight days. Typical treatment might only see one to two doses. Making matters worse, saving Haus was creating another problem that the DeLuca family couldn't ignore…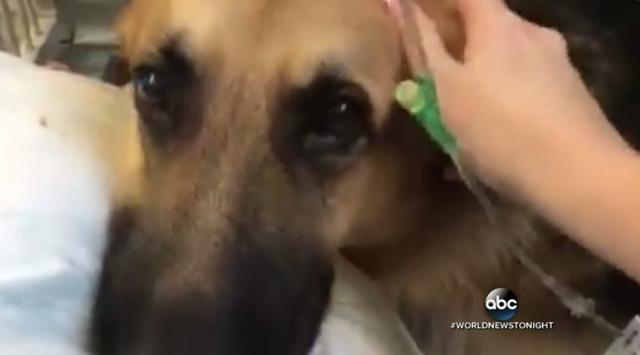 If Haus was going to live, he would need some major intensive care—and that lead to astronomical medical bills that the DeLucas simply couldn't afford. How could they pay to keep their beloved dog—and their daughter's hero—alive?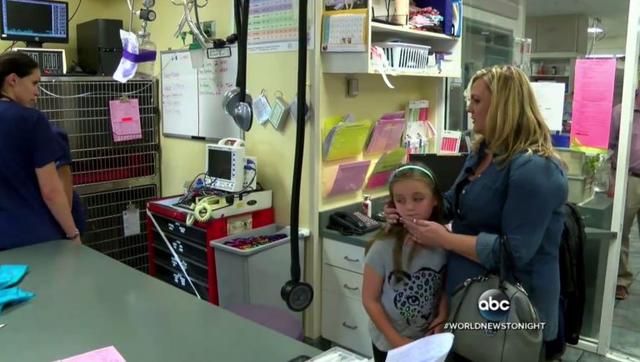 That's when a woman named Cherissa Vandergriff, whose relation to the DeLucas was unclear, stepped in. She set up a GoFundMe page for the family as a way to crowdfund all of the necessary medical payments for Haus's care. In the plea for assistance, Cherissa wrote, "The vet treatment has been extremely expensive…"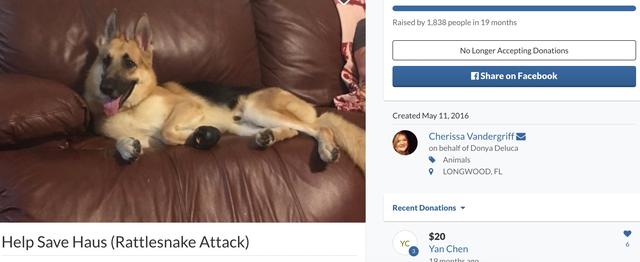 Cherissa continued: "He's been given multiple vials of anti-venom. The vet bills are already at $10,000 and the treatment is not finished. His vitals are strong, his organs are functioning, and if they can afford enough anti-venom, he will recover with no ill-effects." Would this be enough to save Haus?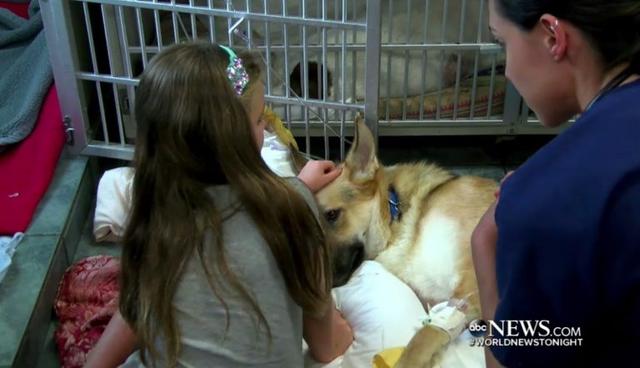 Soon, donations were rolling in! In a matter of days, the family raised $51,329, far exceeding their $28,000 goal, and they had to actually shut down people's ability to donate! Haus's story had inspired nearly 2,000 people to contribute money!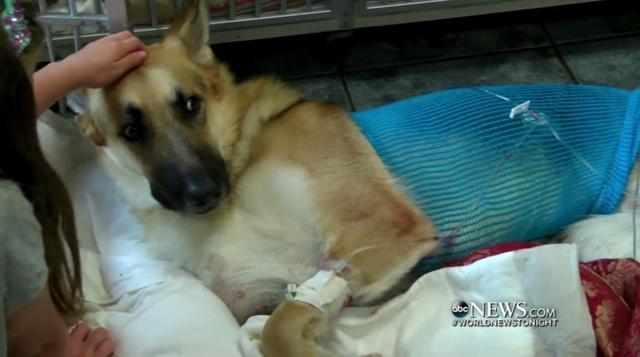 Despite the pup's severe wounds, doctors expected him to make a full recovery, which shocked Donya. "It's semi-miraculous, his condition," she said. "What keeps me going is how he still flicks his tail every time he sees me come in to his kennel, even though I know he's hurting." That's a dog who loved his family!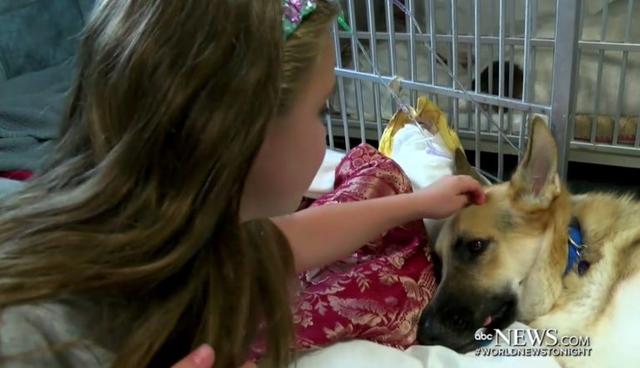 In the end, Haus received some great news. "We hope that Haus will get to go home today," said his veterinarian, Jennifer Holm, on the May 18, 2016, episode of Good Morning America. "We are doing a couple more checks on him early this afternoon, and fingers crossed, we hope that he will get to go home either today or tomorrow."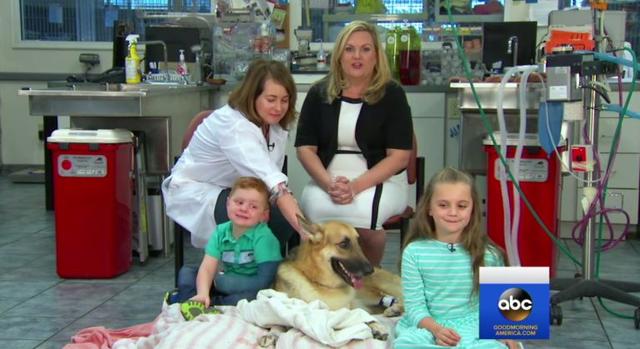 When the LaDuca family adopted Haus, they likely expected they'd be gaining a best friend for the family. What they didn't realize was that they'd be gaining a best friend who would save their children's lives. Haus was a hero with four paws!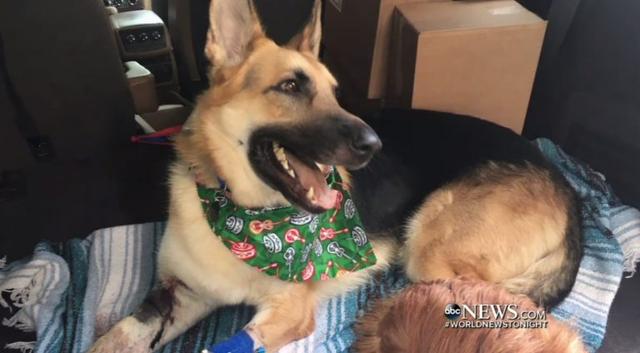 Just watch ABC News's story on Haus and his heroic, life-saving battle with the venomous rattler below. Watching Haus wag his tail as he was surrounded by his family in the hospital seemed so sweet. He knew he was a good boy!
When an animal does something spectacular, tummy rubs and extra treats just doesn't seem like a proper payment. The DeLucas are eternally indebted to this heroic pooch, and they're probably happy to be so!
Share this heroic dog with your friends