No parent expects their child to develop cancer.
A kid belongs in school, on the playground and with friends as they begin their life, not in a hospital going through chemotherapy.
Kansas native Aiden Burkhart is enjoying the things that any nine-year-old kid should while growing up, such as playing soccer and basketball, though he had to fight to do so.
He had to beat cancer first, and due to the lack of funding and resources available for pediatric cancer, he did it with chemotherapy designed for adults.
That journey – which spanned over a year – all began with a bath.
"Aiden had been complaining of leg pain off and on one night while I was giving him a bath," said Jill Burkhart, Aiden's mom. "He was leaning over the tub and I saw a bump on his left hip, which looked odd and was quite large. It was the first time I had ever noticed it."
Burkhart took Aiden to his pediatrician, who suggested it might just be a bruise or injury and to wait a few days to let it heal, though it didn't seem to get any better.
"We went back to the pediatrician the next week and, as a precaution, they had us get an X-ray," Burkhart said. "They had us sit for a while after they finished, so we knew something was up."
"That's when they told us they found a mass on his hip, and we were sent to Children's Mercy for further tests and a biopsy."
Aiden, just four years old at the time, was diagnosed with Ewing's sarcoma, a rare form of bone cancer.
It was the news that no parent is prepared to hear.
"You know that kids can get cancer, but you never think that it'll actually happen to your child," Burkhart said. "I'm a very protective mother, so I always tried to give him the best organic food and used sunscreen, but none of that stuff mattered - he still got cancer."
"You're just devastated and heartbroken."
Ewing's sarcoma is rare, with just 300 to 400 cases occurring annually in the United States.
Aiden was one of those cases, and his treatment began right away.
That meant 17 rounds of chemotherapy and 20 treatments of radiation, all with the intention of weakening the tumor enough to shrink it so that it could eventually be surgically removed.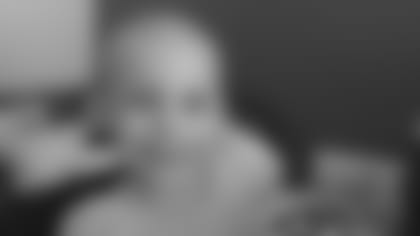 The path ahead, which took about a year, would simply be unbearable for most adults. It's a crippling process for anyone, let alone a four-year-old child.
"It was hard for him at first because he was only four, so he didn't understand what was happening," Burkhart said. "He would be frightened at the hospital because of all the pokes and everything would hurt, but we had amazing nurses and doctors that did their best to make things fun for him, and after a couple of months, he did well going up there."
It wasn't just Aiden's medical team, either, as the community rushed to his aid.
There was an art show, a 5K race and even an MMA fight all dedicated to Aiden in an effort to raise money for his treatment.
"It was very touching because you hear about so many bad things in this world, and really to see people, even strangers, come and help our family meant everything to us," Burkhart said. "We had people praying from all over the world for Aiden to get well, and that helped us get through the diagnosis and the treatment."
That support was necessary, as Aiden's treatment was far from easy, and though he was just a child, Burkhart had to face the disease as if he was an adult.
"Very few chemotherapy drugs are actually made for children, so all of his treatments were adult chemos," Burkhart said. "He was a kid getting drugs meant for adults, so it was hard on his body."
It was an entirely helpless feeling for Aiden's family, watching this four-year-old boy endure a treatment designed for adults.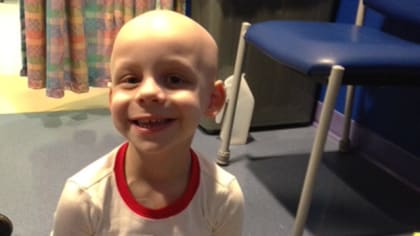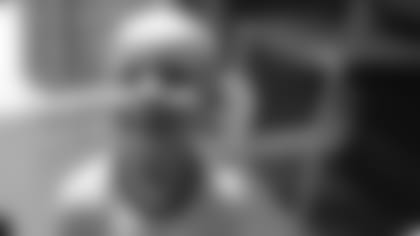 To complicate things further, Burkhart was eight months pregnant when Aiden was diagnosed.
"We had the baby the morning he was supposed to start his second round of chemo," Burkhart explained. "That delayed things a few days, but our daughter went to the hospital with us for all of his treatment. It was just a crazy year."
As difficult a time as it was, the Burkhart's stayed strong for their son.
"We just tried to find happiness in every day," Burkhart said. "Your ability to find happiness, even in the worst time of your life, is very important to your child. If you can laugh and smile and find happiness too, it'll help them get through treatments. We tried to live by that. There were days where it was really hard to find some type of a happiness, but the more we could keep Aiden happy, the better he did in treatment."
Forcing a smile through the worst of times would be unfathomable for most parents.
"It was hard, but you had to suck it up and go in there and not cry in front of them and say it's going to be fine," Burkhart said. "You have to put on a happy face and try to get through it."
The treatment itself was rigorous, but Aiden leaned on his most valuable resource throughout the process - the fact that he was still just a kid.
"There were days where he felt really lousy and terrible, but most the kids on the oncology floor seem to adapt pretty well just because they're kids," Burkhart said. "It's not easy by any means, but when most adults would be lying in bed and moaning, most of the kids on that floor are getting chemo and still out in the hallways playing with toys because that's what they do."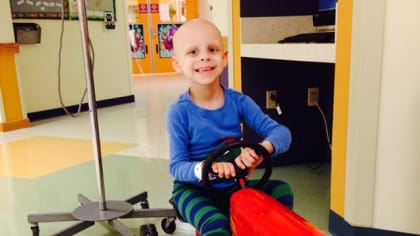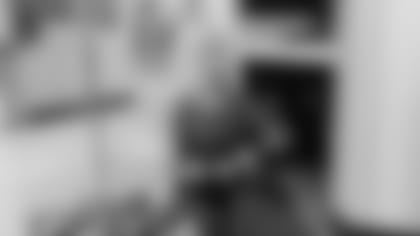 That attitude helped Aiden through 35 blood transfusions, 26 units of platelets and 66 nights in the hospital until, finally, he was deemed ready for surgery.
Burkhart took Aiden to The University of Kansas Health System for the operation, which would remove the cancerous tumor along with part of his hip.
"It's what's called a lateral en bloc resection, which means the tumor has to be taken out in one piece with an envelope of normal tissue surrounding it," said Dr. Howard Rosenthal, Aiden's orthopedic oncologist. "In his case, that required the removal of a good portion of his pelvis."
Prior to the 1980s, amputation was commonplace in treating sarcoma. Today, and in Aiden's case, surgeons like Dr. Rosenthal are able to preserve the affected limb and reconstruct it using prosthetics.
It's a lot for a kid to handle, but Aiden was ready.
"Before the surgery, I asked him if he knew what we were going to do next," Rosenthal recalled. "He said, 'Yeah, you're getting rid of my cancer.'"
The procedure was successful, eradicating the disease from Aiden's body.
"It was the best feeling ever," Burkhart said. "The tumor was completely dead and that was probably the happiest day of our lives, knowing that all of that hard work that he went through had paid off and that he could grow up to live a wonderful life."
Though he had beaten the cancer, he still faced obstacles ahead. The surgery reconstructed much of his pelvis, meaning he needed to learn how to walk again.
"He was unable to walk on it for three months," Burkhart said. "He went through months of physical therapy to learn how to walk and run again, and even then, he still had to build his strength back so he could walk normally without a limp."
Years later, Aiden isn't only walking, but playing soccer, baseball and basketball.
"It was discussed that he may never walk normally again," Burkhart recalled. "We're very thankful that he's able to even run and play sports because we weren't sure that would ever happen."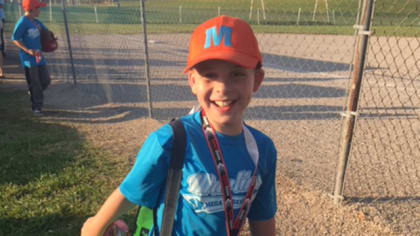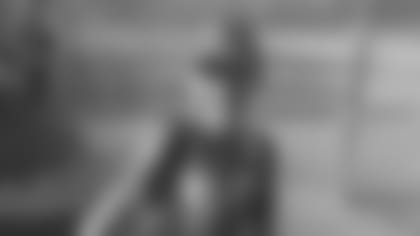 It's fitting that Aiden is playing sports following his triumph over the disease, as he looked to an athlete for motivation while going through treatment.
"He was in treatment when Eric Berry was diagnosed, so we talked a lot about Berry going through treatment and him coming back to the field and I think that gave him a role model," Burkhart said. "I think it helped Aiden realize how hard he has to work to do the things in his life that he wants to do. There's setbacks in life, but you have to make the best of it and hopefully you can get back to what you want to do."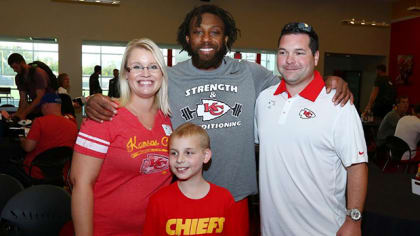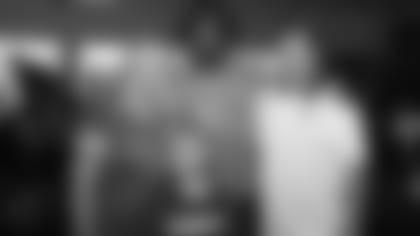 Aiden will be watching Berry's teammates in person on Sunday, as he'll be on hand for the Crucial Catch Game against the Pittsburgh Steelers at Arrowhead Stadium.
It'll be Aiden's first trip to Arrowhead, his trademark smile in tow.
"He loves making people happy," Burkhart said. "We get that constantly, 'How is your child so happy?' He just always has been a happy child - even through treatment he kept a smile on his face and really made the best of it. We really feel like we were given a miracle with his treatment and that it went so well, and that he was able to stay so happy."
That smile has a long life ahead of him.