thumbnail :
Imagine finding out that your child's school decided to shame them in front of all their classmates because you were sick and your car broke down. Talk about having a bad day, but that's what happened to Nicole Garloff and her 6-year-old son, Hunter Cmelo, from the southern Oregon community of Grants Pass.
Nicole was suffering from poor health and to add insult to injury, the family car decided it would take that precise time to stop working. Since riding the bus wasn't possible, she did the best she could to get her son down the street to Lincoln Elementary School, but he arrived a few minutes late.
Nicole felt bad for Hunter as she watched him go into the school crying. He knew he would face detention. This time, the extenuating family circumstances certainly weren't his fault. She decided she would go to the school at lunchtime to check on him and lift his spirits if she could.
"Sometimes Hunter isn't ready, but most often the tardiness is not his fault. Nicole suffers from osteoporosis, which makes it painful and difficult for her to function, especially in the morning," KDRV reported.
Nicole walked into the lunchroom and was stunned to find her son separated off from the other children in the school. He sat with a white partition in front of him, blocking him from seeing the other kids. A cup with the letter "D" for detention sat in front of him to further shame him.
Hunter was publicly ostracized and humiliated. He sat crying and alone. The punishment seemed far too severe. Nicole said he was rarely late and hadn't arrived late enough to have to make up his assignments.
The mom could barely believe her eyes, but she wasn't about to let what happened to her son go unnoticed. She snapped pictures as Hunter sat in his cubicle of shame.
"I was really upset. I went and got my iPad and took a picture of him," said Garloff. "He wasn't tardy so many times that he deserved that.
Hunter's grandmother shared the pictures on Facebook, where they quickly outraged the internet. The post generated over 75 thousand shares with a description of what happened:
"This is my grandson, Hunter. He's a little first grader. His momma's car sometimes doesn't like to start right up. Sometimes he's a couple minutes late to school. Yesterday, he was 1 minute late and this is what his momma discovered they do to punish him! They have done this to him 6 times for something that is out of this baby's control! They make a mockery of him in front of the other students! The principal is responsible for this. His mom found him there, crying, and took him home for the day. Anyone want to help me flood this lady principal with calls telling her how inappropriate this is?"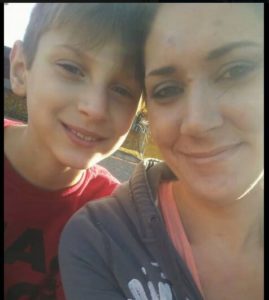 The school's detention policy was in a red-hot spotlight. It appeared that the school's policy had bullied Hunter, and the internet wasn't having any of it. According to Snopes, The school district was flooded with angry calls and the school's Facebook page was rated only one out of five stars.
Meanwhile, the family didn't realize it, but strangers had come together to help them with their car problems. When they showed up to pick up their car from the repair shop, they got a big surprise.
Hunter's father, Mark Cmelo, fully expected to get more bad news about the car. Instead, the auto dealer had joined forces with multiple people in the community to buy them another vehicle and make sure it would be dependable. Businesses in Medford, Oregon, and Grants Pass, as well as a local radio host, Bill Meyer, came together to chip in.
People across the community also chipped in to help pay for maintenance, a years worth of oil changes, as well as a $100 gas card.
"You see that minivan sitting right there?" asked Lisa McClease-Kelly of Kelly's Automotive Service. "That's yours," she said, as she handed Marc the keys to a Chrysler minivan.
The dad's faith in humanity was restored.

"I'm just blown away to see the community come together like this and see that there's still good people out there," said the happy father, Marc.
"People really care," he said.
"We were so shocked, it doesn't seem real. I'm trying to tell Hunter that this doesn't just happen to you," Nicole told ABC News.
In addition to receiving a vehicle that would make sure Hunter got to school on time, attention from the story changed the way the school handled their detention policies. They designated a supervised classroom so kids wouldn't be shamed in front of all their schoolmates. The Grants Pass district stated that the policy in question "was never intended to isolate or stigmatize students."